Tuesday, February 22, 2011
Paths To The Sky
So what's it really like to go for your sport pilot ticket?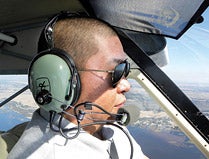 Ming Liu
A Brave New World
Ming Liu, an electronics engineer from Tallahassee, had another challenge during his training: getting comfortable with flying itself. "I was very tense," he says. "I was afraid of every sudden move, every thermal, but I knew I had to overcome all these things."
Liu stayed with it and got his sport pilot license in 50 hours total time. Sheer tenacity and feeling very comfortable with his instructor were big assets. "It was a good experience," he recalls, "even with several breaks in my training: I had to drive six hours for each lesson."
Liu was gung ho to start with a 10-day initial training stint. "But I never soloed...the weather wasn't cooperative, and it was all too new."
His trainer was a Tecnam Echo. "Very forgiving; I really like that plane. Landings were a challenge in the beginning. At times, I had some doubt that I could accomplish the training."
How did his flight instructors—he worked with two throughout his training—help him through it all?
"They pushed me. We did a lot of crosswind training, too, so I really had confidence by the time I took my checkride." If he had it to do over, Liu would take the written test right away, then do an accelerated flight program—with no breaks. Meanwhile, a local flight school expects a Cessna Skycatcher soon: No more six-hour drives for Mr. Liu!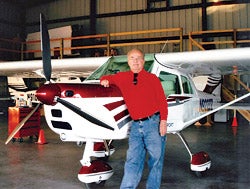 Construction company owner Don Ihlefeld bought his Paradise P1 LSA before even beginning his sport pilot training. After three weeks, he passed his checkride with 35 hours logged.
"Say Type?"
Don Ihlefeld, a construction company owner in Rhode Island, started his sport pilot training by buying the airplane first! "I took all my lessons in my Paradise P1. My instructor flew it to Pine Island, Fla., and we'd fly all morning, break, then all afternoon. Three weeks later, more of the same. I did backslide a bit in skill during breaks."
He soloed, signed up for his checkride and passed with a total of 35 hours under his belt.
"My instructor, Joe Crocker, really helped by spending a lot of extra time with me. My only real problem was judging final touchdown. I made a lot of bad landings, and it was driving me crazy!"
Crocker told him he wasn't looking far enough down the runway. "I'd taken ultralight lessons 25 years ago, and got used to looking too close. Soon as I lifted my eyes toward the horizon, everything came into perspective. I could judge the runway coming up better."
Since getting his license a few months ago, he's wracked up 170 hours, including a recent flight to the Bahamas.
On one flight, Ihlefeld called the tower. A controller asked him in rapid-fire "tower-speak" for his airplane type.
"Repeat that please?" he radioed back, unable to understand the transmission.
"What is your airplane type?"
Ihlefeld was still confused. "Please, would you repeat that?"
"SAY TYPE!" the controller yelled.
"TYPE!" the startled pilot shouted back. A split second later he realized what he had said, and they both shared a good laugh.
Page 2 of 4