Thursday, May 1, 2008
Pilot Careers 2008
Get inside the cockpit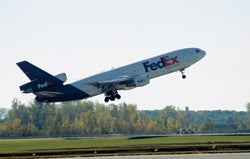 Flying Freight
Darby reports that high-end cargo airlines like FedEx and UPS offer "some of the best jobs in aviation," with the highest pay and best benefits of all U.S. major airlines. In our economy, even if passenger traffic drops, the priority package must be delivered. Major freight carriers demand the highest pilot experience in exchange for these premium jobs.
Smaller cargo airlines are also hiring, providing an alternative career path for pilots who aren't flying regional jets. Employing piston airplanes, turboprops and older business jets, freight forwarders like AirNet and Suburban Air Freight fly a regional link to major cargo carriers, as well as a wide network of their own. Hiring is brisk, with low experience requirements, and pay (and benefits) are improving. Because of the stability (AirNet boasts on its website that it has "never furloughed a pilot") and improved compensation, some pilots may decide to stay with the small cargo carriers, usually flying older Learjets or large Beechcraft turboprops, at the pinnacle of their careers. Nonetheless, small cargo airlines realize that they're usually a conduit to more lucrative flying jobs, reflected by statements on their pilot-hiring websites like this blurb from Suburban: "...builds skills that are well-known in the major airline community. Many of our former pilots are presently flying heavy, first line equipment for major carriers." Entry-level positions abound in small freight airlines. Indeed, salaries at the regionals are competitive, ranging from about $31,000 for a first officer on a small aircraft to $111,000 for a captain on the largest regional jets.
A Career With NetJets
Business jets and fractional-ownership programs are the bright spots in the current aviation industry. One of the largest operators of business jets is NetJets, with headquarters in Columbus, Ohio, and an overseas division in Europe. In addition to its preeminence in fractional-ownership programs, NetJets is also a prime career destination for commercial pilots.

Getting In The Cockpit
Although NetJets currently advertises a minimum requirement of 2,500 hours total time, including 500 hours in turbine equipment, Vice President of Training and Standardization Jim Gorman says new hires consistently have experience well above these minima. "The average new-hire copilot," says Gorman, "has about 7,500 hours total time and a thousand or more turbine hours." NetJets attracts many of the relatively few military pilots entering the civilian world, but most of its new hires come from regional and even major airlines (this includes pilots disenchanted with airline pay scales and uncertainty or those looking for the excitement of flying nearly new airplanes to uncommon destinations all over the world).

Once hired, the new pilot reports to Gorman for three months or more of indoctrination and training. Company training at NetJets' headquarters emphasizes customer-service skills, followed by training with FlightSafety International, appropriate to the airplane type that NetJets selects for the pilot (NetJets operates 14 different jet models). Says Gorman, regardless of the pilot's experience in type, all new hires go through the FlightSafety "initial" course for the airplane, trained "up to and including the type rating" for the aircraft to ensure a standard level of training for all NetJets pilots. After initial training, the pilot is assigned to one of more than 100 domestic domiciles "of the pilot's choosing."

Hiring Stats
NetJets currently employs about 4,000 pilots, with an additional 300 to 400 in its overseas operations. The domestic service hired more than 250 pilots in 2007, and NetJets President James Christiansen says it'll hire another 450 or so in the States and a total of 600 or more worldwide in 2008. Despite this hiring, NetJets has virtually no turnover, with less than 3% attrition in the domestic operation annually (compared to about 35% among regional airlines, according to Gorman). Some of that attrition is pilots moving to NetJets Europe and elsewhere within the company. The company is truly a "career destination," says Christiansen, with pay and benefits exceeding most in aviation and the opportunity to fly "some of the most interesting passengers in the world to some of the most interesting and varied destinations."

What They're Looking For
Vice President of Flight Operations David MacGhee and Ownership and Services Vice President Matt Harris list what NetJets is looking for in an employee:

• An "uncompromising commitment to safety." Without this, they say, nothing else matters.
• A "propensity for service." Flight crew members are often the only contact customers have with the company, so pilots are the "ambassadors" of NetJets and assume duties far beyond just flying the airplane.
• An attitude for excellence in everything he or she does.

Indeed, pilot interviews include meetings with owner services and other customer-service departments. According to Gorman, prior success in service industries, like hotels and restaurants, is a plus.

Want To Fly NetJets?
Do you want to fly with NetJets, but lack the flight experience? Build flight time, especially turbine time, but also concentrate on "people skills" and customer-service experience. Unlike many other flying jobs, NetJets pilots aren't isolated in the cockpit—they're the most vital provider of their clients' needs on the ground as well as in flight. If you strive for service excellence, have the strictest standards of passenger comfort and safety, and log the necessary flight time, NetJets will want to talk to you. To learn more about NetJets, visit www.netjets.com or call (877) 356-5823.

Page 2 of 4