Tuesday, July 26, 2011
Pilot Training: Finish What You Started
What can be done to help student pilots complete their training?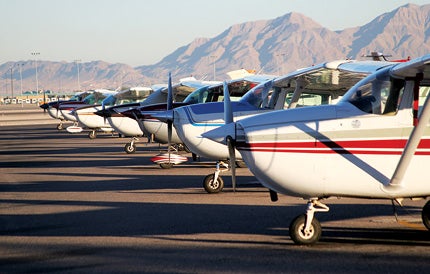 A study conducted by AOPA concluded thatonly about 40% of those earning a student pilot certificate go on to earn a private pilot certificate.
More people give up on their flight training than complete it. This alarming fact is revealed in two reports; the first was released in June 2011 by the Society of Aviation and Flight Educators (SAFE). A second exhaustive study was conducted by the Aircraft Owners and Pilots Association (AOPA), which reported, in October 2010, that only about 40% of those earning a student pilot certificate go on to earn a private pilot certificate. It's not known how many people quit even before becoming a student pilot. Both reports are fascinating in what they reveal about the state of our flight-training system.
Other than the military (which today graduates a miniscule number of pilots), all avenues in aviation begin with the humble student pilot. As a result, our general aviation flight-training system is the most critical component in the aviation engine; one which isn't performing correctly. Without more student pilots to feed into the industry, it could all come to a grinding halt. With student pilot starts also at an historic low, the situation appears dire, and there's collective hand-wringing throughout aviation.
The reports reveal other issues plaguing general aviation, such as the fact that general aviation's safety record is getting worse instead of better, creeping up 10% in the decade of 1999-2009, and showing that 75%-90% of GA accidents are still caused directly by pilot error. But the loudest wake-up call is the state of dissatisfaction with flight training and the number of students who give up.
It's hard to believe—but true—that the flight-training system we use today is derived from the original Civilian Pilot Training Program (CPTP), developed in 1939 to quickly amass a reservoir of pilots ready for the looming prospect of World War II. The CPTP was never designed to train general aviation pilots in using their personal aircraft for business and pleasure within our complex national airspace. Despite a few small changes, our training system today still operates within the maneuvers-based, instructor-centric confines of the old CPTP.
It becomes obvious that change is needed. SAFE has created a symposium addressing this very topic, and AOPA has launched their Student Retention Initiative. Both offer realistic proposals for training reform and improving the student's experience, though none are the "magic bullet" the industry is looking for. It seems the primary goal is starting at the beginning and increasing the number of student pilots who complete their training.
We decided to engage experienced flight instructors from around the nation to offer their own suggestions for turning that trend around. Rather than slinging mud only at instructors as the primary conduits to a positive student experience (because they're an easy target), we decided to listen to what they have to say about helping students finish what they started.
Page 1 of 3