Tuesday, August 11, 2009
Sporty's Foundation: The Future Of Aviation
One child at a time, Hal Shevers and his foundation are keeping aviation alive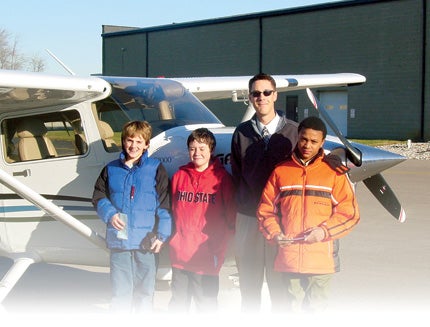 If we don't get more young people interested in every aspect of general aviation, it will simply disappear as we know it," Hal Shevers, the founder and chairman of Sporty's Pilot Shop, tells me as he punctuates his sentence with a long pause and his piercing eyes. In any other setting, such a statement from one of aviation's most colorful figures might seem a bit stern. I'm sitting across the table from Shevers, having lunch at Santa Monica's famed Typhoon restaurant, however, and his warm smile and animated gestures soften the edge of his observation.
As a flight school's Cessna bounces down runway 21 in the panoramic window behind Shevers, I'm reminded that what he's saying is startlingly true: General aviation is in trouble as the pilot population ages and new student enrollment declines. Without new people to fly, maintain and support GA aircraft, our aviation environment will be severely altered. Shevers, though, is doing something about it.
In 2007, Sporty's Pilot Shop conducted an online auction of a Cessna Citation Mustang. The winning bid netted a profit of approximately $500,000, which gave Shevers the seed money he needed to launch something he had conceived years before: the Sporty's Foundation. The idea behind the foundation is to fund worthwhile programs that will grow the GA community—especially through youths. Its goal is to foster a healthy aviation industry today and, especially, in years to come.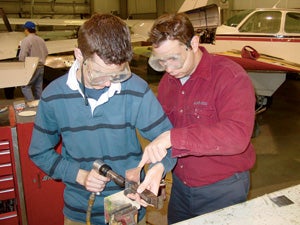 In the almost 50 years that Sporty's has been in business, Shevers has always given generously to the aviation community, grateful for what he says are the rewards of being an aviator. The Sporty's Foundation is an opportunity to continue that philanthropy and promote the excitement and life-enhancing potential of aviation. The foundation's main goal is to attract kids to flying through a variety of means.
Most pilots are familiar with the Experimental Aircraft Association's Young Eagles (www.youngeagles.org) program. Through the Young Eagles, EAA chapters around the world offer free airplane rides to kids aged 8 to 17. Since its inception in 1992, the Young Eagles program has flown more than 1.3 million kids in 90 countries with over 41,000 volunteer pilots. The problem with the Young Eagles is one of follow-up: once the kids experience their ride, little is done to promote further aviation interaction.
Shevers and his foundation team saw this lack of follow-up as an opportunity, and created the "Next Step" program in conjunction with the EAA. The Sporty's Foundation is offering two tools to Young Eagles as a next step to their introduction to aviation: an official logbook and a training course. The special logbook, supplied by Sporty's, is designed to record details of a Young Eagle's first flight and to allow volunteer pilots to show their right-seaters how to log time. Volunteer pilots also encourage them to record other aviation events (e.g., air shows) in their logbook.
Page 1 of 2