Tuesday, August 11, 2009
Sporty's Foundation: The Future Of Aviation
One child at a time, Hal Shevers and his foundation are keeping aviation alive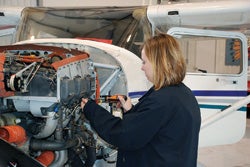 The second component is a unique access code that allows a Young Eagle to access
Sporty's Complete Pilot Training Course
online. Any pilot who has ever purchased a Sporty's course knows the quality of this offering and realizes the positive impact it'll have on a child interested in aviation. The Sporty's Foundation also offers the course to past Young Eagles. "It's the complete course with streaming video, 3-D animation, test preparation—everything," says Shevers, "they don't need any additional books or software." Complete information on the Next Step program is available on the Young Eagles website at
www.youngeagles.org/sportys_faq.pdf
.
Mark Wiesenhahn is the vice president of Sporty's Pilot Shop and one of the foundation's team members. "The first step is getting kids to the airport," says Wiesenhahn about the foundation's work with Young Eagles. "That seems to be the toughest part. But if they enjoy their flight, their passion for aviation seems to take over." He talks about some of the other programs in which the Sporty's Foundation is involved, such as Aviation Explorers, which is part of the Boy Scouts of America program and involves youths (between 14 and 20) in aviation. "The Explorers are near and dear to our hearts," adds Wiesenhahn. "The program is a fantastic way to expose young people to aviation careers."
The foundation is also involved with Youth Aviation Adventure (
www.youthaviationadventure.org
), a one-day program for kids 12 to 18 that was originally a merit-badge curriculum for Boy Scouts. The YAA program now includes non-scouts, and routes kids through nine aviation "stations" where they learn about everything from weather to maintenance. Wiesenhahn focuses on the wide range of aviation interests that the Sporty's Foundation is trying to promote. "We know that mechanics are a huge part of general aviation and we support initiatives that have to do with maintenance and engineering. It's not only for pilots," he notes.
Wiesenhahn wants the world to know that the Sporty's Foundation doesn't operate alone: It depends on donations to expand its ability to give to all the programs that request funding. Back at Santa Monica, Shevers makes the same point: "On our website, we now have the ability for individuals to donate," he says. "We want to allow everyone who has been rewarded by aviation to have the chance to give back." A unique feature of the foundation is that it receives so much support directly from Sporty's retail business. All administrative costs are underwritten by Sporty's Pilot Shop. That means 100% of every dollar donated goes directly to fund aviation initiatives. In 2008 alone, the Sporty's Foundation gave over $151,000 dollars to aviation groups and individuals in all facets of the industry.
A few days after my lunch with Hal Shevers, I had the opportunity to talk about aviation to a group of youths. Afterward, a bright-eyed girl and her parents came up to ask me about learning to fly. The girl's name was Karissa; it was plain to see that she had been bitten by the bug. "It's always been my dream to see the world from the air," she said, unable to quell her 12-year-old enthusiasm. "How do I do it?" As I went through the basics of aviation training, I was grateful for people like Hal Shevers and his Sporty's Foundation and their desire to stoke this tiny spark of aviation enthusiasm. Aviation needs kids like Karissa, and with the help of the Sporty's Foundation, more kids like her will be able to find their place in the sky. Visit
www.sportysfoundation.org
.
Page 2 of 2