Tuesday, July 23, 2013
Surviving Ramp Check
It doesn't have to be the encounter most pilots dread
A few years later, I wasn't so lucky. I did get ramp-checked in Waco, Texas, but forewarned by my previous near-brush with the feds, I was prepared, and I got through it without a hitch. I had one out-of-date WAC chart on board my Mooney, but the inspector either didn't notice or didn't care, as all other paperwork was in order. He was courteous and respectful, and so was I. He gave me his business card, commiserated about the hot weather in Waco, shook hands and left.
(Back in the 1990s, at Oakland Airport in the San Francisco Bay area, I had two airplanes being tanked for Pacific ferry flights at the same time—a new A-36 Bonanza destined for Sendai, Japan, and a factory-fresh Mooney Ovation headed for Brisbane, Australia. The Ovation carried Australian VH registration, but the Bonanza was in the standard American N registry. An FAA inspector showed up the day before I was scheduled to leave for Japan and inspected the Bonanza, then discovered the Australian Mooney was also my ferry flight. He stepped up the following day and asked to see my temporary Australian pilot's license, then said he'd be happy to conduct a courtesy inspection if I wanted one. I thought about it for a few seconds, but as I couldn't think of any logical reason to ask for trouble, I declined. He shrugged and left, obviously disappointed.)
Fact is, random ramp checks on Part 91 operations are rare and becoming more so as the FAA struggles to reduce its budget. Still, many pilots automatically fear any meeting with someone from the FAA.
What To Do—Or Not Do
Unless you've done something dumb but not deliberately evil and been caught at it, a casual confab with the FAA shouldn't present any major concern. Unlike the IRS that often acts as police, judge, jury and executioner, the FAA is limited in what they can do during a ramp check. Any pilot willing to do his homework and ascertain that he has the proper paperwork for both himself and his airplane has little to fear from the FAA.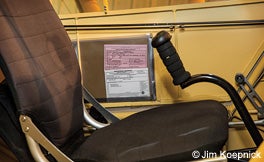 An aircraft's airworthiness certificate must be prominently displayed in the plane.
Most of us learned in flight school about the documents required to operate an airplane. In this case, we'll confine our examination to Part 91 operations and leave Part 121 and 135 (requiring a commercial license) for another time.
In a typical scenario, think first things first, although not necessarily in that order. Most of the time, the inspector will step up, show you his FAA ID card and say something like, "Hello, I'm Inspector George Smith with the FAA. Do you have time to answer a few questions?" If he doesn't show you some government identification, don't answer any questions, and you might want to ask him why he's so inquisitive.
But assuming he's legit, how you handle yourself during the next few minutes will shape the rest of the inspection. If you believe government isn't the answer unless it was a really stupid question, you can expect hostility in return. If you're prepared, cooperative and non-confrontational, the process is almost guaranteed to go smoothly.
Page 2 of 4