Monday, November 2, 2009
The Checkride Chronicles
A year in the life of a designated pilot examiner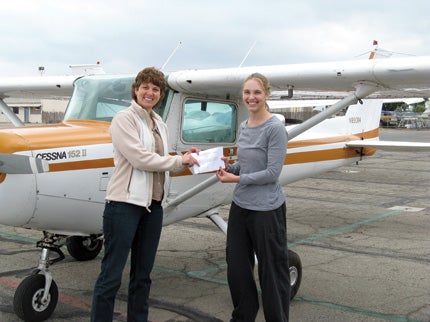 Who's the judge beside you in the cockpit, deciding whether you're worthy of receiving aviation's highest honor (a license to learn)? Hopefully, it's someone who'll make your entry into the world of aviation less than turbulent.
For me, becoming an FAA examiner has been a four-year effort. After the evaluation and verification of my designated pilot examiner (DPE) application, I became eligible to take the predesignation knowledge test. Next, I spent a week in Oklahoma City for the Initial Pilot Examiner Standardization Seminar. I waded in the shallow end of the examiner candidate pool until I was selected for designation by my local FSDO. Finally, my oral exam and flight test with an aviation safety inspector ended with a thumbs-up. Here's a look back at the challenges, fun and "oops!" of my first year as a DPE.
January–February
The FAA requires new DPEs to perform a year's worth of private pilot checkrides before they can request the next level of instrument and commercial privileges. Generally, a certain amount of annual activity is required for the renewal of examiner designations. As a new DPE, it'd be appropriate for me to conduct 10 tests this year; as of February, I'm on number three. I wonder if the learning curve will be greater for me or for my applicants.
I try to present a friendly and comfortable atmosphere to the applicant, but I do expect a certain level of etiquette equivalent to a job or airline interview. Making a good first impression goes a long way toward the four or five hours we'll be spending together. Emily Post suggests being on time and polite, and looking sharp—to that I would add having all paperwork in order. So far, each of my applicants has provided me with an exceptionally positive experience—a credit to their instructors. Each satisfactorily met the performance standards as painstakingly detailed by the FAA's
Practical Test Standards
(
PTS
).
For my first applicant, English was a second language, so while he demonstrated competency, his oral exam took longer to complete. I advise my applicants to ask themselves whether their answers make sense before actually responding. For example, could the length of an uncontrolled airport runway really be 60,000 feet? If the aircraft is lined up on runway 9, heading east, then does it make sense that the compass reads 270 degrees? Unless you know exactly what's horizontally opposed under that cowling, don't mention it in a dazzling display of your rote-memorization skills.
Page 1 of 3