Tuesday, April 7, 2009
The Right Way To The Left Seat
How to realize your dream of becoming a professional pilot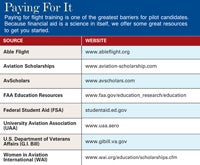 Click on the image for a larger view
Things are different today. At this writing, the economy is in an uncertain and difficult state. Fewer airlines exist. Americans travel differently, so regional carriers have become a mutation of the old long-haul airlines. Salaries and pensions have changed with the times, and the military is no longer an appreciable source of airline pilots.
It's important to acknowledge these changes. It would be irresponsible for any article on piloting careers to suggest that the same environment exists today as that experienced by airline pilots decades ago. But although it has changed, a professional pilot career path is still a viable option, whether for a second career or for those who are looking at it for the first time. With perseverance and research, anybody can fulfill his or her dreams of becoming a professional pilot.
A Second Chance
There are many reasons why people choose aviation as a second career path. Topping the list is because flying has always been a dream of theirs. Maybe they put it off to have kids or start a business. Now they're considering it again. All of them started with the simple desire to learn to fly.
Kit Darby, an expert in airline hiring and placement says, "Even with all the changes in pensions and benefits, airline flying is still a worthwhile pursuit." Darby goes on to explain that salaries and benefits remain attractive in the long-term. "Those who stay and become senior are still making a great deal of money," he says. Salaries for entry-level airline pilots reflect the biggest change since the golden years of airline flight.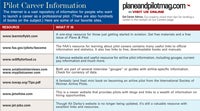 Click on the image for a larger view
Many More Choices
Anybody looking at aviation as a second career should know that the diversity of professional pilot jobs available today rivals that of decades past, and one of the keys to success in aviation is to open yourself to all the different kinds of flying available.
Regional carriers represent the "typical" pilot career option. It's here that most airline pilots begin their careers since major carriers (JetBlue, Southwest, United, etc.) hire only pilots with considerable experience. Regional airlines are like farm teams for the majors.
Areas that have shown growth in pilot hiring are charter and air taxi operations. These are smaller companies that operate everything from the newest four-seat Cirrus aircraft with glass cockpits to larger turboprops and small jets. These types of operations are "on demand" and carry passengers to locations ranging from vacation resorts to airport hubs for continued travel.
Many corporations boast in-house flight departments charged with transporting their executives to business meetings in a more efficient way than the airlines. These flying opportunities are always changing as businesses experience ups and downs, but corporate flying remains a lucrative piloting choice.
Lesser-known flying opportunities are available in areas such as crop dusting, air ambulance, aircraft delivery and sales for aircraft manufacturers, sightseeing, banner and glider towing, skydiving support, firefighting, traffic watch, aerial photography and film, border patrol, aircraft ferrying, air show support and wildlife observation.
Page 2 of 4