Monday, May 11, 2009
Ticket To Ride II
Part II: Practice, practice, practice, home study, and what? Time to solo already? Gulp.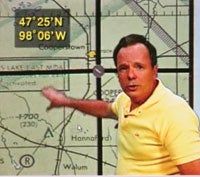 King Schools' John King have helped countless students get into the air
Breakthrough
But until a few lessons ago, I'd still found the airplane a bit stiff in roll and that throttle sticky...until the day Lampson showed up with a CTSW (860LS was down for maintenance).
And as soon as we lifted off, I suddenly felt like I knew how to fly again! The SW was nimble as a spring colt: snappy roll, quick response. That's what I'd been wanting all along—lighter controls. And the throttle? I could slide it without that 90-pound-weakling feeling. We shot eight landings that day. I nailed most of them; suddenly, I felt like a pilot instead of Edward Scissorhands.
Lampson saw the improvement immediately: "You're really controlling the airplane now." He had asked the factory to adjust 860LS's throttle tension and roll-control spring tension and—lo!—the heavens parted! The difference from the "old" CTLS was tangible: I could fly this bird!
At the end of the day, Lampson shook my hand and said, "You'll be ready to solo soon." Now we're talking, brother.
Hitting The Books

Meanwhile, for all those New England bad weather stretches, I'd acquired some study materials to keep me on track. The first goodie box came crammed with DVDs and books, courtesy of ASA, (www.asa2fly.com), the major supplier of aviation software, publications and supplies. ASA produces several DVDs, hosted by sport aviation instructor Paul Hamilton. These are great for newbies to sport flying, in particular
Be A Sport Pilot
(training overview),
Weather To Fly
, a thorough grounding in LSA-related meteorology and
Sport Pilot: Choosing The Light-Sport Aircraft That's Right For You
, a smorgasbord of clips and info on all the LSA types, from powered parachutes to sophisticated high-wingers.
My next fun parcel came from longtime aviation colleague David Jackson, president/CEO of King Schools (
www.kingschools.com
), and was exactly what I wanted—a thorough CD-based interactive video course for my computer to prep me for the FAA written. John and Martha King do a superb job tag-team teaching in the many video clips—they pretty much wrote the book on aviation visual media learning. And once each clip ends, you're drilled with multiple-choice questions taken from the actual FAA question bank.
I blasted through the dozen CDs, drilled in the course review section, took the test at a local FBO and missed two questions out of 40 for a score of 92. Works for me. If you're into self-teaching like I am, this is the way to go—I loved the King course. It's not a substitute for ground training from your instructor, of course, but a great, endlessly reusable way to retain what you've learned.
Page 4 of 5