Tuesday, March 10, 2009
Ticket To Ride
Earning a sport pilot license: Part I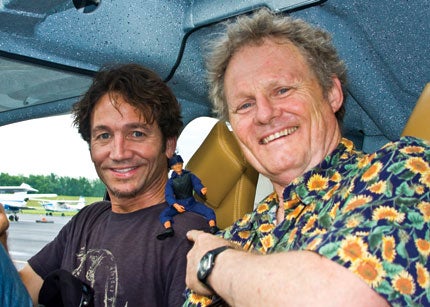 Instructor John Lampson (left) prepares James Lawrence (right) to get licensed.
Enough trash already. This endless washboard-road turbulence promises to reintroduce me to the hot dog and greasy fries I just ate. Note to self: Next time, have an avocado salad.

After two hours, I'm still fighting the airplane. I thought I'd be much better than this, and that's the core of the problem: You can't fly on expectations. You can only fly the airplane.

The miracle of flight is lived in the now, and then the now, and then the now. Sorta like life.

The airplane isn't the problem: It's solid, tight, comfortable and doing what an airplane is supposed to do—fly. I can feel its lightness, of course: A Beech Bonanza weighs three times what most LSA do. That's why, in the bumps, you're more ping-pong ball than paddle.

But it's me—that's the problem. Put a perfectionist in a new cockpit on a choppy day, and you've got a low-grade crisis of self-confidence. I'm not flying horribly. I just expected to be better than this. What was I thinking?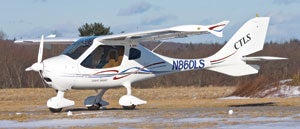 Flying Dreams Revisited
I was thinking, "It's time to rejoin the party." I've always loved airplanes. Whenever I heard one overhead or saw one at a field, I had to stop and gaze. I felt a kinship for wings. It was a part of the mystery of me, like my father, a WWII pilot I only vaguely remembered but who always had a model airplane around the house.
Remember headlines like: "8-Year-Old Boy Solos, Becomes 747 Captain At 14!"? I was not one of those boys. Although I've flown all my life, I never got my pilot's license.
One day in 1973, rounding a sand dune on the Oregon coast, a bright yellow hang glider landed right in front of me, like a dart dropped by Apollo. Desire ignited my soul. There was my future, flapping in the breeze.
I scraped up $400, bought a hang glider and never looked back. A couple years later, I took flight lessons in a C-152 and racked up 55 hours.
Page 1 of 4