Wednesday, February 1, 2006
Tomorrow's Aeronautical Museum
You won't believe what these kids are doing

Every day—yes, even Christmas—between 50 and 150 kids show up at Tomorrow's Aeronautical Museum (TAM), an incredibly unique nonprofit flight school in Compton, Calif. First they must finish their homework (there are even tutors there to help), and then they can take advantage of a variety of opportunities to earn money. The jobs might include graffiti mitigation, picking up trash from a local community park or even washing the occasional Cessna on the school's flight line. But the money they earn is not available to the kids as hard cash. Instead they receive credit for flight lessons at the TAM flight school. The result is that an amazing number of kids from a tough inner-city Los Angeles neighborhood are learning to fly." />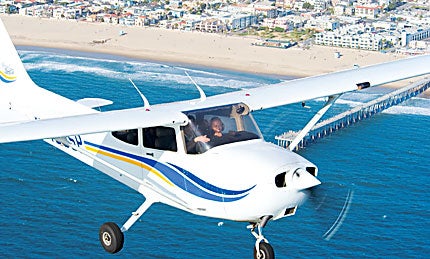 Every day—yes, even Christmas—between 50 and 150 kids show up at Tomorrow's Aeronautical Museum (TAM), an incredibly unique nonprofit flight school in Compton, Calif. First they must finish their homework (there are even tutors there to help), and then they can take advantage of a variety of opportunities to earn money. The jobs might include graffiti mitigation, picking up trash from a local community park or even washing the occasional Cessna on the school's flight line. But the money they earn isn't available to the kids as hard cash. Instead they receive credit for flight lessons at the TAM flight school. The result is that an amazing number of kids from a tough inner-city Los Angeles neighborhood are learning to fly.
Jimmy Haywood was nine when he started walking across the street from his house to TAM. He spent every day there after school, learning about aircraft control on flight-simulation programs installed on the school's donated computers. In short order, he began earning "museum dollars" so he could transition into real airplanes. A little more than a year later, he would navigate a real Cessna 172 (with an instructor) all the way from Southern California to Canada and back, becoming the youngest African American pilot to take on international flight.
"It blows your mind what these kids are accomplishing," says TAM founder Robin Petgrave. "We're producing the stars of tomorrow today. That's why we're called Tomorrow's Aeronautical Museum."
Petgrave's confidence in his project and in the kids is no idle boast. Recently he took three TAM students—Richard Olmos (age 12), Diamond Hooper (age 13) and Kenny Roy (age 15)—to Washington, D.C., and challenged two U.S. Air Force pilots to a spot-landing contest. "It was really fun," says Petgrave. "Here we had pilots, whom the government had spent millions of dollars to train, competing against our kids from TAM, who learned to fly for free!"
Out of the five competitors, Kenny Roy placed second, but only by a matter of a few feet. The pilot who beat him had some pretty impressive credentials—pilot in command for Air Force One.
Roy made news last year, as well, when he flew a Cessna 152 all by himself in Canada and became the youngest African America to be licensed for solo fight. U.S. regulations require a minimum age of 16 for a student to solo, but Canadian regs allowed Roy to qualify earlier. This spring, Petgrave intends to take 14-year-old Jonathan Strickland to Canada and have him solo in a fixed wing and a helicopter—both on the same day.
"We're not trying to make records. A lot of our accomplishments do make or break records; it's just the nature of what we do," Petgrave insists. He just wants to make sure his kids get the recognition they deserve.
And recognition they get. Hanging on the walls of Tomorrow's Aeronautical Museum is a huge collection of acknowledgements and commendations from all over—Governor Arnold Schwarzenegger, the NAACP, Boeing, the U.S. Senate, the House of Representatives, the Los Angeles Board of Supervisors, President George W. Bush and on and on.
Page 1 of 2