Tuesday, February 8, 2011
Training With A Passion
Michael Goulian's flight school makes dreams come true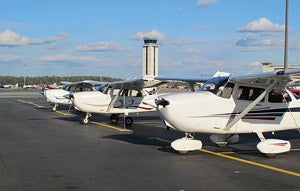 In addition to Cessna 172s and 182s, the Executive Flyers fleet also includes a Piper Arrow, Beech Duchess, American Champion Decathlon and an Extra 300L.
Executive Flyers is a Part 141 flight school, so the syllabus and training is more structured than a Part 61 flight school requires. What's most important is that the training be tailored to the needs and goals of the individual student. That's something Goulian feels too many flight schools don't heed.
"Every student is learning how to fly for a different reason, whether for a career, a hobby, or because they want to eventually buy their own personal jet to fly for their own business," Goulian notes. "So as an instructor and school, you have to know what the goals and aspirations are for the customer. Because once the school knows that, that's how you interact."
"So many instructors have come from the big aviation colleges, and they train their own students the way they were trained," he continues. "That's okay if you're going to be an airline pilot, but not a pleasure pilot. So, I think the system is broken because we're trying to teach hobbyists how to fly a Boeing or Airbus, and prospective professional and recreational student pilots need two distinctly different approaches."
Executive Flyers is a Cessna Pilot Center, and Goulian feels the online tools Cessna provides are a big advantage for students in today's world, with so many competing demands for their time. "You can continue learning to fly with online training when you're on the road," he says.
Quality Instructors
Executive Flyers has a roster of about 15 flight instructors, both full- and part-timers, from recently minted CFIs to retired military pilots. "For me, the age of the instructor has really nothing to do with their instructional capabilities. It's all about the human being," says Goulian. "In reality, their flying skills need to be average, but their interpersonal skills need to be exceptional, because you're going to sit in close proximity to a person that is used to high levels of service and excellence and professionalism for 50 or 75 hours. So you don't need to be Charles Lindbergh to teach somebody to fly, but you certainly need to be caring and communicative and calm, because you're on a journey together."
Flight schools are sometimes considered a haven for CFIs who aren't enthusiastic about teaching but are simply seeking to build hours and move on to a job flying for an airline, a corporation or some other left-seat assignment. Senior flight instructor Sean Brodeur says the company screens CFI applicants with exactly those concerns in mind. "Our interview and evaluation process filters out the guys who are just in it to build time and not be commited to the customer," says Sean, himself an 8,000-hour career instructor. "We look for people who are passionate about what they do and put heart and soul into things."
In fact, Executive Flyers actively seeks instructors with higher aspirations. The hires simply have to be dedicated to being superior teachers while at the company. "We want instructors to turn over every once in a while," Goulian says. "We want people flying with us to be chasing a dream—be it in the cockpit of an airliner, or flying off a carrier. If they do that, that's awesome."
Page 2 of 4
Labels:
Aviation Careers
,
Aviation Resources
,
Careers
,
Features
,
Flight Schools
,
Flight Training
,
Jobs and Schools
,
Learning Center
,
People and Places
,
Pilot Resources
,
Pilot Skills
,
Aviation Personalities