Tuesday, February 8, 2011
Training With A Passion
Michael Goulian's flight school makes dreams come true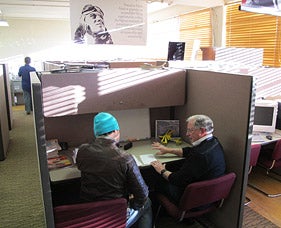 Flight instructors at Executive Flyers are dedicated to and passionate about training students.
Consequently, instructor alums from the school have gone on to fly for the airlines, for leading corporations, to fly fighters for the Air Force and Navy, and even fly on the Space Shuttle. "It's quite an honor for us," says Goulian.
Dante Conley, who earned her certificate this past spring, examined several local flight schools before choosing Executive Flyers because of its combination of professionalism and personal touch. "The thing that really struck me is it's an extremely organized program," Dante says. "They want to know your goals, your personality, and the kind of instructor you'd work best with. At every turn, I was impressed with how thoughtfully they took my own considerations into account."
A Complete Fleet
The school currently has about 25 aircraft, primarily Cessna 172s and Cessna 182s, some with glass, others with steam gauge panels. Goulian is concerned about the impact glass panels are having on basic flying and decision-making abilities, so at Executive Flyers, students are exposed to both.
"The stick-and-rudder skills of today's pilots are gone, or they're eroding very quickly," Goulian says. "There are a lot of people who think if you put glass in an airplane and you give pilots weather information and you make sure they don't stall the plane, that they're never going to have a problem. That's so far from the truth."
For complex training, the school has a Piper Arrow, while a Beechcraft Duchess is used for multi-engine work. Basic aerobatics and upset and recovery training are available in an American Champion Decathlon. "The Decathlon is probably the busiest airplane in the fleet," Goulian says, and it's especially popular with customers who have just completed their primary flight training. "With the aerobatic program, they enjoy the camaraderie and the challenge. And some go on to compete in aerobatic contests at the primary and sportsman level, just for fun."
For students interested in taking aerobatics to the next level, the school has an Extra 300L, a two-place version of the airplane Goulian flies in his air shows. And Goulian occasionally instructs aerobatic students himself. "The truth is, I'm no more magical teaching somebody how to do a loop than one of our instructors," he says. "But once you're starting to compete and you want to know the tricks, and you want to get the last 10%, I can help you. But you don't need that at hour five—you need that at hour 50."
Two Skycatchers will be joining the fleet in 2011, and Goulian anticipates they'll be very popular with students.
Page 3 of 4
Labels:
Aviation Careers
,
Aviation Resources
,
Careers
,
Features
,
Flight Schools
,
Flight Training
,
Jobs and Schools
,
Learning Center
,
People and Places
,
Pilot Resources
,
Pilot Skills
,
Aviation Personalities