Tuesday, June 8, 2010
Water, Wind & Floats
At Jack Brown's Seaplane Base, getting wet is part of the fun
Be prepared to have fun," Frances Brown told me. That was one of those phrases I had heard before with little payoff. I was making arrangements to go to Jack Brown's Seaplane Base in Winter Haven, Fla., for its famed seaplane training, and Frances was kind enough to brief me on everything I'd need for the course. Her admonition sounded sincere, especially when delivered in her honey-smooth Florida drawl. Days later, the phrase made me smile as I sat in the cockpit of a Piper Cub with water spraying my face, wind battering my T-shirt and the sweet feel of floats leaving the lake water below. I was having the most fun I had ever had flying.
Jon Brown—Jack's son—runs the seaplane base and has been at the helm since his father died in an unrelated aircraft accident in 1975. Jack Brown was an aviation folk hero in these parts. He started the seaplane base in 1962 to take advantage of the hundreds of lakes in this part of Central Florida. The base's popularity for seaplane training became obvious, so Jack focused exclusively on that aspect. To date, Jack Brown's Seaplane Base has trained more than 14,000 seaplane pilots and is one of the busiest seaplane training facilities in the world.
Jack Brown's is known the world over, and while I was there, a never-ending line of pilots came through the door from every country imaginable. Whether it was Maldivians stopping in to say "hello," or Brazilians signing up for the course, it became a game to "guess the accent." It's all part of the charm here. "This is a little like being at Grandma's," laughs Frances, Jon Brown's wife. "Everybody has their favorite chair, and they feel connected to the place because nothing here changes much." A love of floatplanes (the correct term is either "floatplane" or "seaplane") brings everyone together.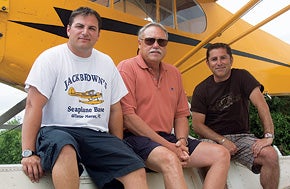 Marc Lee (right) takes a break with his instructor, Nick Veltre (left), and Jon Brown (middle).
Seaplane 101
Students coming to Jack's start their day early with a ground-school session that lasts a couple of hours. If you're lucky, you'll get an instructor like Jerry Caudill, who hails from Kentucky and whose Southern accent is like a rum and molasses concoction: thick and easy. If central casting could provide the perfect seaplane ground instructor, it would be Jerry. Using a plastic model and a whiteboard, he teaches you all the basics of seaplane flying. You learn, for example, that the FAA requires floats to be divided into at least four compartments, with each float required to support 90% of the seaplane's weight. And that "sister keelsons" are strips alongside the keel that help guide water on the underside of the float for better control.
You'll learn about the right-of-way rules for seaplanes as spelled out in FAR 91.115 and how just about anything on the water has the right-of-way over a seaplane. You'll be taught about "the step," one of the most ubiquitous terms in the floatplane world. It refers to the "sweet spot" on the float where physics provides the best acceleration for the least drag. Getting "on the step" means transitioning the seaplane from sitting in the water like an overfed duck to making it rise out of the water and onto this more efficient part of the floats.
The FAA doesn't require a written test for the seaplane rating, but there's a thorough oral exam, and Jon Brown—who's one of two designated FAA examiners at the base—doesn't pull any punches. Safety is his main concern, and he makes sure you've learned everything you need to know. You'll be given course materials that are based heavily on renowned seaplane instructor John M. Rennie's book,
Step Up To Floats
, which focuses on the J-3 Cubs used at the base.
Page 1 of 3