Thursday, May 1, 2008
Wingipedia, Part II
In this edition, "Jenny" through "roll"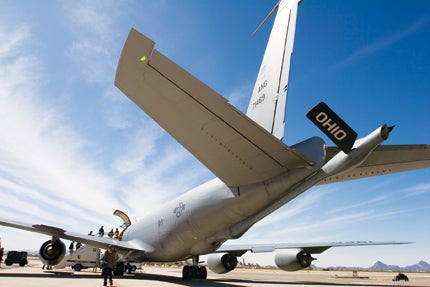 KC-135
Last month, we brought you the first installment ("acrobatics" through "induced drag") of Wingipedia, our aviation-based encyclopedia. Here, we present the second installment. If you think that something's missing, log on to
planeandpilotmag.com
to contribute your own additions.
J
Jenny
Although it's also a pretty girl's name, in aviation, it applies to the 1917 Curtiss JN4D, the ex-military biplane trainer that carried barnstorming and aviation into the 1920s. Glenn Curtiss designed both the airplane and the OX-5 (a 90 hp, water-cooled, V-8 engine that lived on to power many new designs).
Jepp charts
The legacy of Elrey Jeppesen (1907–1996), an early mail and freight pioneer, was his concept of making maps (or "charts") that clearly show pilots helpful landmarks. His navigational aids have been aviation road maps for generations.
JetStar
Originally designed as a light military transport, the 10-place Lockheed JetStar was the first corporate jet placed in full production. The unique four-engine layout (two on each side of the fuselage) and wing-mount fuel tanks make it unique. It first flew in 1957 and was last produced in 1978.
Jet streams
These are high-altitude (around 20,000 feet) rivers of fast-moving air that form at the interfaces between two large air masses. Normally, we associate them with the line between northern and southern air masses. Their meandering path across the continent determines much of our weather.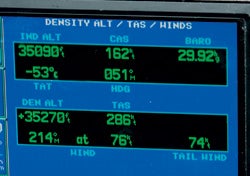 KTAS
K
KC-135
It's hard to believe that the old (1957) Boeing KC-135 Stratotanker tanker is still performing yeoman's duty fueling the newest aircraft the military has in inventory. It wasn't, contrary to popular belief, a direct adaptation of the 707 airliner, but was derived from the narrower, shorter prototype for that aircraft. The airplane is older than most of its flight crew members.
Knots
Much of aviation is a carryover from ocean travel, including the measurement of distance and speed. The "knot" is short for "nautical mile," which is 15% longer than a statute mile.
Kollsman window
Altimeters measure the change in air pressure as we ascend, but they have to be calibrated to take into account the changing local barometric pressure. That's done by setting the local pressure, e.g., 29.92, in the Kollsman window.
KTAS
Knots true airspeed. Most airspeed indicators are approximations, because temperature and altitude can cause air density (and the pressure it can generate with forward motion) to vary, so they need to be corrected for those effects to generate true airspeed (TAS).
Page 1 of 4