Monday, June 23, 2008
Wingipedia, Part III
In our final installment, we conclude with "Alberto Santos-Dumont" through "Zulu time"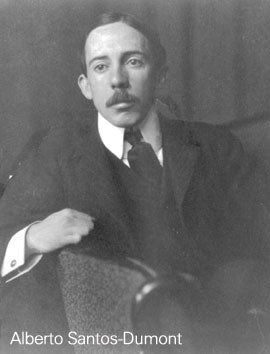 We've finally reached the end, my friends. In "Wingipedia, Part I" [March 2008], we covered "acrobatics through "induced drag." And in "Part II" [May 2008], we took care of "Jenny" through "roll." It has been fun, but our aviation version of Wikipedia has reached the end of its line. Wikipedia, which asserts that its name is "a portmanteau of the words wiki (a type of collaborative website) and encyclopedia," is an online encyclopedia that's written and edited by its visitors, i.e., people like you and me. As this is a print publication, it's hard for us to offer the same access with Wingipedia. But, as always, you're encouraged to comment and add your two cents online at
planeandpilotmag.blogspot.com
, where the fun never stops. Cheerio!
S
Santos-Dumont, Alberto
Brazilian-born Alberto Santos-Dumont was an aviation pioneer who lived in France and made the first public European flight of an airplane in Paris in 1906. Long before the Wrights did, he routinely launched his aircraft without the aid of catapults. His dainty little Demoiselle of 1909 might well be considered the first practical lightplane.
Spin/snap roll
A spin and a snap roll are both full-stall maneuvers, with yaw imparting an autorotation. A snap roll is a horizontal, high-speed stall, while the spin is vertical and entered at the aircraft's normal stall speed with lots of yaw. The snap roll can be mind boggling; the spin generally isn't.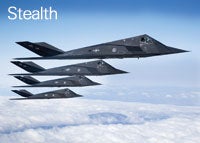 Stealth
New-generation military aircraft now depend upon increasing levels of "stealthiness," rendering planes invisible to radar-targeting systems. This is accomplished with extreme attention to external detail to absorb or diffuse radar return signals.
STOL
Short takeoff and landing. How short is short? Generally STOL airplanes are mission-specific and are designed specifically to get off extremely short runways (as opposed to fairly short runways, in which case they're utility aircraft). A Cessna 180 is not STOL, but a Helio Courier is. A stock 150 hp Super Cub might be, but a modified 180 hp Super Cub definitely is.

T
TAS
True airspeed: The indicated airspeed corrected for density altitude effects. It's always higher than indicated airspeed and is the speed most quoted by the pilot because it makes the airplane appear faster.
Tach
You can spot aviation newbies by their use of the entire word tachometer. The tach serves dual purposes by letting us know how fast the engine is turning over (which, in a direct-drive engine, is also the propeller rpm) and keeps track of engine run time.
TBO
Time between overhaul: The hours you can reasonably expect an engine to run before it needs to be rebuilt. To ensure that an engine runs to TBO, fly it often, change the oil often, then fly it some more. If either or both of these are missing, your engine is unlikely to make TBO.
Turbofan
The turbofan could be considered a turboprop with very short blades. It uses a conventional jet engine to turn a cowled fan section that extends out past the diameter of the engine itself. It has proven to be the most fuel efficient form of high-speed propulsion.
Page 1 of 3