Saturday, March 1, 2008
Wingipedia
In this edition, "acrobatics" through "induced drag"
The computer generation has come to depend on digital explanations for everything courtesy of Wikipedia (and, no, we don't know where the name came from). That being the case, we thought we'd come up with our own, more common sense, aviation-based encyclopedia, hence "Wingipedia." If you think something's missing, add your two cents through the link at the end of this article.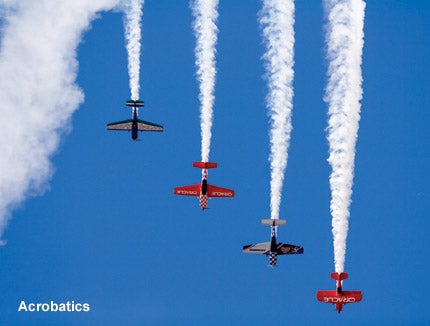 Photo by Jessica Ambats
A
Acrobatics
Acrobatics/aerobatics is the art of controlling an airplane in all dimensions and conforming to preplanned geometric figures. Competition aerobatics are performed, and judged, in an aerial box, 3,300 feet by 3,300 feet, ranging in height from 2,000 to 3,000 feet depending on the category (Sportsman, Intermediate, Advanced, etc.).
Airport (1970)
In
Airport
, Burt Lancaster and Dean Martin dealt (in a hyperserious manner) with a bomb onboard and a closed airport. A decade later,
Airplane
, with Leslie Nielsen and Robert Hayes, did the ultimate send-up of the trapped-in-the-air movie and gave us dozens of memorable quotes, e.g., "Don't call me Shirley."
Approach
The terminal part of any flight in which a prescribed track is flown to position the aircraft for landing. VFR patterns are generally rectangular and supposed to be economical in their use of space but seldom are.
Armstrong, Neil
The first man to step on the moon has done his share of dramatic airplane exits, including bailing out of a combat-damaged F9F Panther in Korea and getting a T-33 stuck in a not-so-dry lake bed along with another icon, Chuck Yeager. Each blames the other.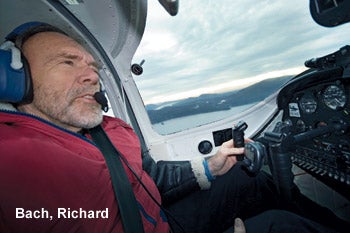 Photo by Jessica Ambats
B
B-17 Flying Fortress
The B-24 Liberator outnumbered the B-17 (18,482 to 12,731) during WWII, but it's the B-17 that most symbolizes the wartime bomber effort. Made famous in movies such as
Twelve O'Clock High
, the airplane used turbocharged 1,200 hp Wright R-1820 engines.
Bach, Richard
Bach, a fighter-pilot-turned-author-extraordinaire, has penned some memorable prose, including
Jonathan Livingston Seagull
, which is named after legendary 1930s race pilot Johnny Livingston. Bach's
Stranger to the Ground
should be required reading for any pilot.
BFR
The biennial flight review was created to ensure that all pilots take at least a little refresher training every other year. This is to include an hour of ground review and an hour of flight review. There's no pass or fail, but the CFI giving the training has the option of recommending more training.
Page 1 of 5