Saturday, March 1, 2008
Wingipedia
In this edition, "acrobatics" through "induced drag"
Bush (plane, pilot, flying)

A 2,000-foot grass runway is close to bush conditions for some, but serious bush flying uses semi-flat spots in the 500- to 1,000-foot category or shorter. The king of the bush airplanes is the Piper PA18 Super Cub, especially those outfitted with mods by F. Atlee Dodge.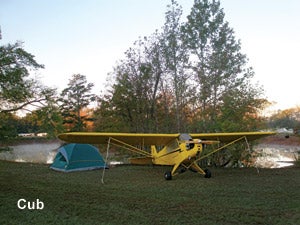 Photo by Lynn Lunsford
C
Cessna
Although Clyde Vernon Cessna had been building airplanes of his own since 1910, he got serious about it when he teamed up with Walter Beech (later of Beechcraft) and Lloyd Stearman (yes, later of Stearman aircraft) to form Travel Air Aircraft in 1925. Two years later, he left to form Cessna Aircraft.
CFI
Certified flight instructor: the hardest-working, lowest-paid person in aviation. They're there to get you started at the beginning and, through BFRs, keep you on track for the rest of your flying career.
Corsair
Because of landing problems, old "hose nose" didn't qualify for carrier duty until well into WWII. That didn't stop USMC pilots, like Greg Boyington's famous Black Sheep (VMF-214), from taking it ashore and doing what fighter pilots are supposed to do.

Cub
The original Piper Cub was neither designed nor built by Piper. It was the brainchild of C.G. Taylor who, after being bailed out by financier/oilman Bill Piper, developed the E-2 Taylor Cub. Then it was redesigned by chief engineer Walter Jamouneau in 1935 and dubbed the J-2 Cub. It became the legendary J-3 when the Continental A65 engine came on board.
D
Davis Aircraft Corporation
Walter C. Davis was one of many aviation entrepreneurs who had really bad timing. He formed Davis Airplane to build a parasol-wing airplane, the D-1, now a valued antique. The year was 1929. He went bankrupt in 1930.
Davis, Benjamin O.
Among the first students to get his wings at Tuskegee Army Airfield in 1942, Davis became the commanding officer of the 332nd Fighter Group during WWII and flew 60 combat missions. He eventually became the first African-American General in the U.S. Air Force.
Davis-Monthan AFB
Although known as "the Boneyard," Davis-Monthan Air Force Base in Tucson, Ariz., is actually a storage and reclamation center that strives to recycle as much of each airplane as it can. Sometimes they recycle the complete airplane for a foreign government; other times they salvage components.
Dihedral
The "bent-wing" appearance of the dihedral gives aircraft more stability in roll. Because of the angle, as a wing goes down, it gains "projected area" while the other wing loses it. The increased projected area has increased lift, which causes the low wing to come back up.
Page 2 of 5