Pilot Skills
Hone your pilot skills with the articles and advice below. Our sport-pilot articles cover topics of interest to novice and advanced general aviation pilots. Trust our ongoing training articles to improve your piloting skills.
Tuesday, June 1, 2004
The 10 Dumbest Things Pilots Do
Although pilots continue to try to find new ways to screw up, there's an amazing similarity to accident scenarios from today and from 75 years ago. Here's a list of the most common stupid pilot tricks.

Ask any pilot about the danger zones of pilot experience and most will give you a blank stare. Ask Bruce Landsburg of the AOPA Air Safety Foundation or veteran instructor/aviation journalist Rod Machado and you'll receive intelligent, informed answers.
Thursday, April 1, 2004
The Ultimate Preflight
The assumption that the airplane has always worked in the past is no excuse for a hasty inspection

The operative word there is "almost." "Almost zero" isn't zero. Although we'll never get an airplane to be 100% in terms of condition, wouldn't it be silly to get hurt just because we didn't bother to spend an extra five minutes and missed a loose nut or a crack that was right there, ready to be discovered?
Thursday, April 1, 2004
Got Insurance? Are You Sure?
You may be as surprised as we were to discover that as many as half of America's active pilots unknowingly fly without it

A pilot rents an airplane from a fixed base operator. After an hour of flightseeing, he returns to his home airport and is cleared to land behind an arriving biz jet. The pilot gets into a small bit of leftover wake turbulence, the rental aircraft wobbles just before touchdown and a wingtip catches the runway. Head in hand, the pilot taxis the aircraft back to the FBO. A mechanic looks at the damage and estimates $15,000 to $20,000, and almost at the same moment, the pilot learns the FBO's aircraft insurance deductible is $10,000. Any guesses who gets to pay the 10 grand?
Thursday, April 1, 2004
10 Fast Fixes For Lousy Landings
Pilots put their passion and their pride on the line with every landing. Here's some advice from the pros.

People place too much emphasis on landings. Non-pilots often base their entire evaluation of a pilot's ability on nothing more than the smoothness of the touchdown at the conclusion of the flight. Never mind that the pilot in command may have made a clumsy takeoff, forgotten to retract the flaps during climb, leveled at the wrong altitude, left the cowl flaps open at cruise, descended without richening the mixture or almost landed at the wrong airport—a smooth return to Earth usually forgives all sins.
Monday, March 1, 2004
The NASA Report: Looking For Absolution
Should you make a mistake, filling out some simple paperwork might just save your bacon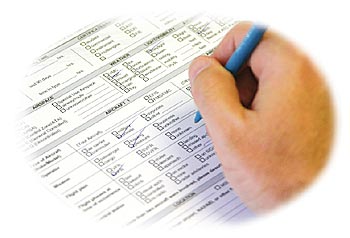 Before you ask, yes, I've filled out my share. Like most reasonably conscientious pilots who try to play by the rules, I don't go around deliberately violating FARs, but on those rare occasions when I think I might have clipped a corner of a Class B, busted an IFR altitude or come closer than I like to another airplane (no matter who was at fault), I whip out a NASA report and send it in.
Sunday, February 1, 2004
Faces Behind The Microphone
Twenty-six tips to help you get more from air traffic control

Pilots and air traffic controllers share a unique relationship, a mutual trust and understanding that supports the modern system of flight. Virtually every time a pilot climbs into the cockpit of an airplane, he or she engages in some sort of verbal exchange with the ATC environment.
Sunday, July 1, 2001
Upset Recovery Training
More and more pilots are beginning to understand that anyone can find themselves in unusual attitudes

I hate roller coasters. Little tykes who are barely out of their diapers scamper away from the Superman Ride giggling and laughing. I, on the other hand, stumble away with nausea, posttraumatic stress and a desire to sue the park for mayhem, reckless endangerment and domestic terrorism. So what am I, a nonaerobatic pilot, doing here at 7,000 feet—with my eyes closed, mind you—falling inverted out of a tailslide in an airplane I've never flown before?