Tuesday, May 26, 2009
A New License To Learn
Advanced training leads to more than just proficiency; it can also save lives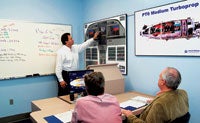 Getting back into the classroom for advanced training is essential for maintaining pilot proficiency and staying safe in the event of an in-flight emergency.
(Photo: Ron Csuy, SimCom Training Centers)
Advanced Ratings
One of the best investments pilots can make is earning an instrument rating. Jeff Kramer is a great example of a pilot who recognized the tangible benefits. He earned his private certificate and flew for 200 hours, but stopped because of marriage, kids, mortgages and other commitments. He couldn't get flying off his mind, so he returned 23 years later. "My goal was simply to take weekend trips within a 500-mile radius of where I live in Wisconsin," says Kramer, "But the weather here grounds you a lot of the time."
To accomplish his goal, Kramer began training with AFIT (Accelerated Flight & Instrument Training,
www.afit-info.com
), an IFR training operation that comes to you, immerses you in dedicated training and guarantees you'll finish in 10 days. Not only did Kramer finish, but his wife went through the program as well, and now both are instrument-rated.
Some pilots don't realize that there are many paths for advanced training, above and beyond the instrument ticket. You can even train while getting paid for it. Gulfstream Training Academy (
www.gulfstreamacademy.com
) operates an interesting program with exactly that approach.
Pilots accepted to Gulfstream arrive with their private, instrument, commercial and multi-engine ratings. After three months of Part 121 training, students move into the cockpit of Beech 1900s, carrying passengers and operating as Gulfstream International Airlines, flying international routes to Cuba and the Bahamas. Pilots are hired as first officers, gaining turboprop time while earning a full salary. Training costs, including more than 250 hours of turbine time, are less than $30,000.
One graduate, Ken Lindsay, likes the fact that he can gain jet time immediately. "I can fly for Gulfstream in a period of three months and build some real-time turbine time," he says. Graduate Laurie Thyrre, who's now a Southwest Airlines pilot, adds that working as a first officer while you're training saves time: "You can shave two or three years off the process of going to a major airline."
But in today's economy, some people question the notion of even wanting to become an airline pilot. Bobby Pinto, a pilot recruiter for Gulfstream, says the issue of age-extended pilots will create an impending hiring boom. "Pilots who extended their airline careers when the maximum age was raised to 65 are going to be retiring in three years," says Pinto. "The only choice is to replace them or raise the limit again to 70, and that's not going to happen. The airlines are going to need pilots quickly."
Page 2 of 4