Monday, August 1, 2005
Avoiding Midair Collisions
Here's what you can do to "see and be seen" when flying into high-traffic airspace

It was over so fast, it was almost as if it hadn't happened. And, of course, fortunately for everyone, it hadn't. It was only a blur in my peripheral vision, so fleeting that I wasn't really sure it was there. It may have been a Seneca or Twin Comanche, angling in from my 10 o'clock. The airplane was slightly below me, and I had one of those terrifying, stop-action glimpses of two people in the cockpit, the pilot looking down at his instruments and the right-seater staring at him.
" />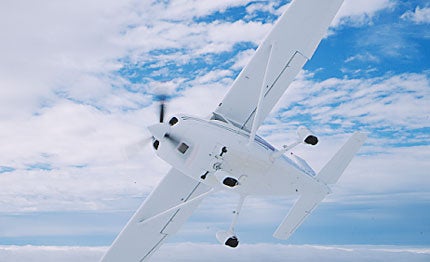 It was over so fast, it was almost as if it hadn't happened. And, of course, fortunately for everyone, it hadn't. It was only a blur in my peripheral vision, so fleeting that I wasn't really sure it was there. It may have been a Seneca or Twin Comanche, angling in from my 10 o'clock. The airplane was slightly below me, and I had one of those terrifying, stop-action glimpses of two people in the cockpit, the pilot looking down at his instruments and the right-seater staring at him.

I felt the jolt of its wake as it passed under me, almost like rolling across a speed bump. I stared idiotically at where it had been for a few seconds, not sure what to do next. There hadn't even been time to flinch. Then, I turned to my right to see if it was true.

It was. A Piper Seneca was angling smoothly away behind my Mooney's right wing at five o'clock, its pilots apparently oblivious to their near brush with eternity. I would just as soon have shared their ignorance.
If you fly in congested airspace, and perhaps even if you don't, midair collisions are an ever-present threat. Okay, so you may not need to worry much about midairs over Tucumcari, New Mexico or Newton, Kansas, but in many other locations, the so-called Big Sky can easily become crowded with a high concentration of air traffic.

For better or worse, I live in Southern California, the busiest airspace in the world for most of the year. (The EAA AirVenture is busier for a few days annually.) Fly around the Los Angeles Basin long enough, and you're almost bound to have a closer encounter with another airplane than you'd like.

Page 1 of 5