Saturday, September 1, 2007
Back In The Saddle
Returning to the cockpit can be exhilarating and difficult, but worth every frustrating minute

The first thing I did was introduce myself to her. I did it quietly as I touched her spinner and as my flight instructor ambled off to untie the right wing. The last thing I needed was my instructor thinking I was crazy for talking to a machine. This was, after all, a machine—a complex assembly of aluminum, cables, spars and wires. There could be no life in this 2,000-pound craft of the air, but I knew better." />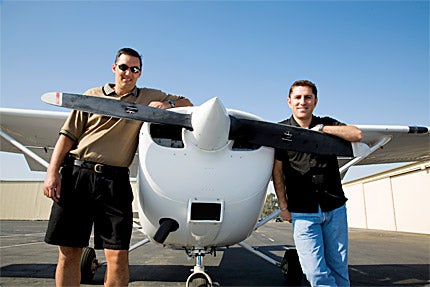 The first thing I did was introduce myself to her. I did it quietly as I touched her spinner and as my flight instructor ambled off to untie the right wing. The last thing I needed was my instructor thinking I was crazy for talking to a machine. This was, after all, a machine—a complex assembly of aluminum, cables, spars and wires. There could be no life in this 2,000-pound craft of the air, but I knew better.
I spoke, instead, to the part of this airplane that had shared adventures with her pilots in the past. The part that responded with engine-backfire anger to ham-fisted airplane drivers and rewarded a student's kind sloppiness with an occasional cloud-puff of a landing. I took my best shot.
"Hello, Seven Sierra Papa. My name is Marc and I'm going to be flying you," I half-whispered. "It's been a long time, so please be gentle and good and I will do the same in return." My instructor was waiting impatiently now by the right cabin door in that crouching position that tall instructors have to assume under a high-wing Cessna. I reached for the cockpit door handle.
It had been 24 years since I'd piloted an aircraft. I had walked away shortly after earning my private certificate for a variety of reasons—most of which had to do with the dismal state of aviation careers in the 1980s. Still, 24 years later, the clatter of a Continental or a Lycoming at cruise power always pulled my eyes upward. I missed flying so much that I decided it was time to come back.
Flying is unique in that it takes considerable preparation and two kinds of learning to do safely: knowledge of navigation, regulations and all the elements related to aviation, and then the physical ability to control the aircraft. While the latter can only be learned in the cockpit, knowledge can—and should—be gained before stepping near an airplane. I started with an inventory of everything I had forgotten about airplanes and flying.
Anyone considering recurrency should begin with an honest self-assessment of where they are in terms of aviation knowledge. Regulations, procedures and techniques have rapidly changed, and relying on a passed written exam from long ago isn't enough. Start with a good training manual or any of the popular multimedia courses. Take the practice exams and dig into the different chapters, especially the ones about airspace. Any instructor will tell you that a prepared student will be far more successful in the cockpit than an unprepared one.
One key thing is to get your paperwork in order. You'll have to update the FAA with your current address and you'll need a current medical certificate. Medical conditions that can ground you may have crept up with no warning; get the medical out of the way so you can relax.
Page 1 of 4