Saturday, October 1, 2005
Busting TFRs
Pilots continue to fly into restricted airspace. Are the feds losing their patience?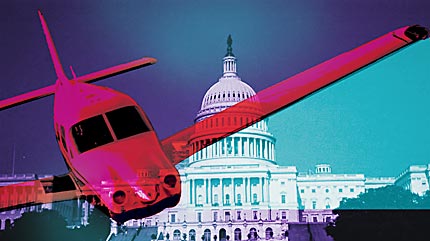 Once upon a time, you could pull the airplane out of the hangar, fire up the engine, point it into the wind and fly. Wherever you want, whenever you wanted. As time went on, rules and procedures began to be as much a part of a pilot's skills as the ability to fly with a stick and rudder.
On September 11, 2001, the sheer number of rules and the potential cost of ignorance grew exponentially. On that day, one poor fellow paid a severe price for the sudden change. He woke up on what to him was a normal VFR day, preflighted the airplane and flew it less than 17 miles to fill it with avgas. It was a beautiful morning, the weather was great, and he needed to fly! What he missed was the sudden paradigm shift that occurred mid-morning on that fateful day. His license was suspended for 240 days because he missed a national emergency and the nationwide ground-stop that followed.
Terms like Air Defense Identification Zone (ADIZ) and temporary flight restriction (TFR) quickly came into widespread use among the general-aviation pilot group. Those terms had been around for years. Military fighters and the ADIZ protected American coasts from intrusions by Russian Bear Bombers throughout the Cold War. TFRs were used for presidential security and other extraordinary events. But they weren't part of a pilot's everyday life. You didn't get intercepted and forced down if you flew through a TFR.
Today, things are different. There's an ADIZ that surrounds Washington, D.C. In the four years after 9/11, it was violated over 1,000 times. The North American Aerospace Defense Command (NORAD) has scrambled fighters for intercepts within U.S. borders over 1,600 times. In the year previous to 9/11, NORAD intercepted airplanes in the ADIZ only 67 times, none of which occurred within the U.S. borders. In 2003, the prohibited area that surrounds Camp David in Maryland was violated over 80 times, and the prohibited area called P-49, which surrounds the Bush ranch in Texas, was violated more than 140 times. For each violation, a standard 60-day suspension awaits the transgressor.
A license suspension is nothing compared to what awaits a penetration of the Washington, D.C., ADIZ. Hayden "Jim" Sheaffer wandered into the D.C. ADIZ on May 11, 2005, and forced the evacuation of 35,000 people. Oblivious to his position or his impact on others, he flew within three miles of the White House, triggering the first red alert since the terrorist attacks of 9/11. His transgression led to the interception by F-16 fighters that dropped flares and a DHS Black Hawk helicopter that directed him to land at Frederick, Md. Sheaffer was on a VFR cross-country with student pilot Troy Martin; he had planned the flight and checked the weather, NOTAMS and TFRs. In his mind, he was prepared.
Page 1 of 3