Tuesday, May 1, 2007
Designing Your Flight Review
Customizing your training will make you a safer, smoother and more efficient pilot

Like many newly minted instructor pilots, my first "dual given" was a flight review. I didn't know how to put together a review. At the time, the regulations gave almost no guidance and didn't require a minimum amount of time on the ground or in the air (this has since changed)." />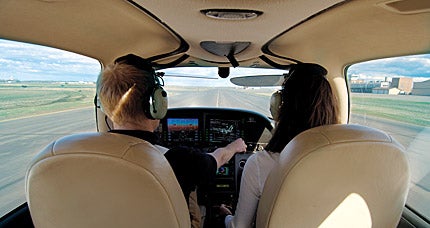 Like many newly minted instructor pilots, my first "dual given" was a flight review. I didn't know how to put together a review. At the time, the regulations gave almost no guidance and didn't require a minimum amount of time on the ground or in the air (this has since changed). My "reviewee" and I talked for a few minutes, climbed into the Cessna 152, went out and did a couple of stalls and three takeoffs and landings, and I signed him off for another two years of pilot privileges. I got my first "professional pilot" pay and he got a logbook endorsement. Despite the potential for challenge and enhanced safety, however, the flight was a formality with little lasting benefit for either of us.
This kind of casual flight review might cause a pilot to think: "I fly a lot. Why should I have to train every two years?"
Under
FAR
61.56, pilots must log at least one hour each of ground and flight training within 24 calendar months—this is the origin of the term "Biennial Flight Review" (although the "B" was dropped in the late 1980s). There are several methods of meeting the requirement, but most pilots get the standard flight review.
FAR
61.56 arose to reduce accidents. Possibly as a result, the rate of mishaps has gone down phenomenally. But too often, a flight review is done (like my first dual given) as a mere formality. To make even greater strides in safety and to make this biennial check enjoyable, you can design your own flight review to meet your goals.
Experience & Training
Experience is what you learn from having things happen to you. Training is the process of learning from the experiences of others. You wouldn't want the first time you think about an electrical failure, a rough-running engine or a partial-panel flight to be when it happens to you for real. That's why we train—to retain skills and experience things we wouldn't necessarily experience in our day-to-day flying. The flight review may be among the only formal training you get after earning your pilot certificate.
Page 1 of 4