Tuesday, February 9, 2010
From Tailwheel To Turbine
Total transition training, the Gauntlet way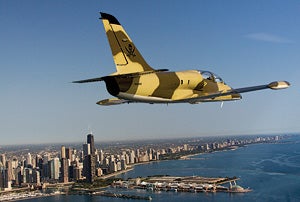 The L-39 flies over Chicago and Lake Michigan. Gauntlet offers training in both the L-29 and the L-39, as well as in its T-6, Decathlon and Extra 300.
About five years ago, Roche, an investment banker, came to Morris with some 350 total hours, no tailwheel time and an urge to buy a T-6. At the time, Morris was the only tailwheel instructor in the Chicago area. Soon after Roche started lessons, he purchased his coveted warbird, and the two worked out a deal: Morris would get transition training in the T-6 and then instruct Roche. But Morris found the training syllabus deficient and developed his own T-6 curriculum, complete with phase checks. Soon, Morris was fielding requests for T-6 instruction from other students. From those roots, Gauntlet grew.
Dressed in his flight suit, Morris, not yet 30, exudes the focus, mission orientation and esprit of the military pilot he always dreamed of becoming. But with eyesight below military pilot specs, he earned a degree in aerospace engineering from the University of Southern California instead, teaching aerobatics on the side. After graduation, he made his way back to his hometown to offer the basic instruction that forms the foundation of Gauntlet's training.
"Tailwheel and aerobatics really are the gateway to all these aircraft," Morris says of the jet transition. "If you get a good, solid 20 to 25 hours of tailwheel time and some aerobatic experience, you can fly these."
Earlier that day, we had done an introductory walkaround of the Gauntlet fleet. Strong, responsive and forgiving, the 150 hp Bellanca Decathlon is an ideal platform for tailwheel and basic aerobatic instruction. Certified to +6/-5 G's, a pilot can learn all maneuvers through Sportsman-level aerobatics in the Decathlon.
"Once they finish their aerobatic training, pilots can rent the Decathlon solo," Morris says. The school's other aircraft always are flown dual.
The Extra 300L, a two-place variant of the aircraft flown by such air show stars as Patty Wagstaff and Mike Goulian, covers the Unlimited-category aerobatic spectrum. Certified for +/-8 G's when flown dual, Gauntlet's Extra 300 course includes advanced vertical maneuvers, tumbling maneuvers, torque rolls and advanced spins. After demonstrating proficiency with Unlimited-category maneuvers, training is tailored to the individual pilot's objectives.
The WWII advanced trainer made by North American Aviation and known to various air forces as the T-6 Texan, AT-6, SNJ and Harvard provides entrée into the piston warbird world. Gauntlet offers both a transition and basic aerobatic course in its SNJ-6. Transition training typically takes five to 15 hours, depending on pilot experience and capability, and basic aerobatics usually requires 15 to 20 hours of flight time.
"I can't say enough good things about the T-6," Morris says. "Every time you fly it, it makes you work and makes you a better pilot."
Page 2 of 4