Tuesday, February 9, 2010
From Tailwheel To Turbine
Total transition training, the Gauntlet way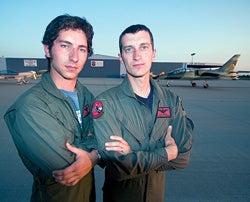 Vess Velikov (left) and Greg Morris (right) are two of Gauntlet's highly experienced instructors.
The Aero Vodochody L-29 Delfin and L-39 Albatros are the fleet's flagships. Operated in the Experimental/Exhibition category, a Letter of Deviation Authority (LODA) from the DuPage FSDO allows their use for training. Students must have a private pilot certificate or better for instruction. The L-29, designed in the late 1950s, served in the air forces of all Warsaw Pact countries except Poland. Initially used as an advanced and weapons trainer, and later as a primary trainer, the L-29 is loud and a gas guzzler, but has the feel of a more advanced jet, despite its low-tech appearance.
"This is the first aircraft Russian military pilots would fly," Morris explains. "It has a thick wing, almost like off of a Cherokee, and it only cruises at 250 to 280 knots, but it has the handling qualities they wanted."
The L-39, successor to the L-29, has the needle-nosed look of a modern fighter. Air-conditioned, heated and pressurized, it's also comfortable to fly. Introduced in the late 1960s, the L-39 has been used as both a jet trainer and light-attack aircraft, and is still flown by more than 30 air forces worldwide. Maximum speed is 490 knots, or Mach 0.8, and it has a +8/-4 G-load limit.
Gauntlet offers transition and unusual attitude training in both jets. The transition course covers basic aerobatics, unusual attitude recoveries, simulated flameouts and high-altitude operations. The unusual attitudes course includes stalls and recoveries in all attitudes, with an emphasis on achieving and maintaining corner velocity under G-loading, that is, minimizing airframe stress in an upset recovery.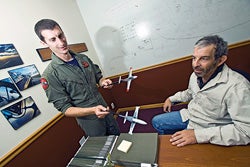 Morris preps author Jim Wynbrandt for their formation flight.
Of course, a flight school can only be as good as its instructors, and Gauntlet has a highly experienced team of trainers in addition to Morris. Vess Velikov, who specializes in tailwheel and aerobatic instruction, has a degree in aviation from San Jose State, and has logged hundreds of hours in T-6s and vintage taildraggers, including Wacos and Stearmans. Dan Walton, an Embry-Riddle graduate, is active in aerobatic competition and has type ratings in several models of Citation and Gulfstream jets. Fred Bower, a former U.S. Air Force pilot, has experience flying aircraft from the U-2 to Boeing 737s, and currently flies for a major airline.
Rates for the aircraft range from $165 an hour for the Decathlon (instructor, an additional $75) to $1,700 per hour for the L-39. Gauntlet's turnkey programs now draw students from as far as Europe and Australia who spend vacation time earning endorsements and type ratings that would be impossible or prohibitively expensive to get back home. But the school also aims to attract a local crowd with what Morris calls "the pure sport aviation pitch: Taking a half-day break from the wife or husband and kids, and just flying for an hour or an hour and a half in an aerobatic airplane or warbird, and going back home and having your life."
That's what brings Stewart, who has racked up about 150 hours in the two years he has been flying with Gauntlet. "This isn't stuff you fly cross-country; this is stuff you go out and have fun in, and really learn to fly," he says. "That's the beauty of what Greg's got here: You can go out and have these different experiences in all these different planes."
Page 3 of 4