Monday, October 1, 2007
Get The Balance Right
If you think weight and balance are boring and unimportant, you need to read the following

It was 1985, and I was refueling a Cessna 425 Conquest I at Tenerife in the Canary Islands on my way to Johannesburg, South Africa. I'd instructed the fueler to fill the wing tanks first, then begin topping the three 110-gallon internal ferry tanks starting with the front tank. I turned away to fill out the necessary paperwork, heard the pump running for a few minutes and as I finished the fuel request, heard a sickening crunch behind me.
" />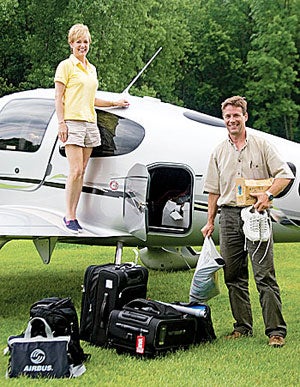 It was 1985, and I was refueling a Cessna 425 Conquest I at Tenerife in the Canary Islands on my way to Johannesburg, South Africa. I'd instructed the fueler to fill the wing tanks first, then begin topping the three 110-gallon internal ferry tanks starting with the front tank. I turned away to fill out the necessary paperwork, heard the pump running for a few minutes and as I finished the fuel request, heard a sickening crunch behind me.

I turned around to discover that my big Cessna turboprop twin had become a taildragger. The airplane had fallen back onto its tailcone, crushing the tail tiedown ring up into the aluminum and suspending the nosewheel high in the air. The fueler was still standing precariously on the airplane's airstair bottom clamshell, its aft lip now resting against the ramp. He was holding the fuel hose in his hand, obviously confused by what had just happened.

It was all too obvious. He'd climbed up onto the airstair and begun refueling the first tank he saw, in this case, the aft ferry tank. With wing fuel well down and the three ferry tanks empty, the result was inevitable. Loading 730 pounds into the aft tank with so little in the front containers was more than the CG could handle.

It was my fault, of course. The young man actually doing the fueling spoke little English, and his supervisor hadn't translated my instructions on how to fuel the airplane. On many delivery flights, we often fuel the ferry tanks ourselves to make certain there are no errors. I'd been complacent by counting on someone else to do it right.

Most weight-and-balance problems aren't that dramatic, but many pilots are aware that improper balance can be deadly. Overloading is a no-no as well, but it's usually more of a venial rather than a cardinal sin. Usually.

Page 1 of 5