Tuesday, July 14, 2009
Lowest To Highest
From below sea level to a Colorado high in a light jet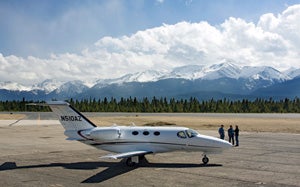 This leads to another issue that takes many jet newbies by surprise: It's necessary to compute speeds, runway requirements and climb performance for nearly every takeoff—particularly when the weather gets hot. In the summer, it's not always possible to safely take off out of many airports with enough fuel to go very far. When it gets hot, even a small runway gradient can make a huge difference in takeoff performance.
Jetting To Death Valley
The Furnace Creek Airport in Death Valley, Calif., is 210 feet below sea level. From the air, the 3,000-foot runway looks awfully short, and legend has it that the surrounding desert is littered with the remains of military jet planes whose pilots tried to maneuver below sea level. As we circle the airport, I carefully look for the wind indicator to make sure that I'm landing into the wind—even a light tailwind could push the aircraft off the end of this runway. Temperatures at the airport are hovering around 100 degrees F, and there's no jet fuel or service on the ground.
Before departing for Death Valley, my copilot and I carefully considered the fuel requirements to make the next fuel stop and how much runway we'd need to land and take off again at our expected weight and temperature. Fortunately, North Las Vegas Airport is only 83 miles to the east, so we won't need much fuel to safely make it there with plenty of reserve. With a light load, the Mustang performance software shows a landing distance of about 2,300 feet, so if we touch down on the first 500 feet of runway, then we should have enough length. Clearly, there's not a lot of room for error.
The Lowest: Death Valley, Calif., 210 Feet Below Sea Level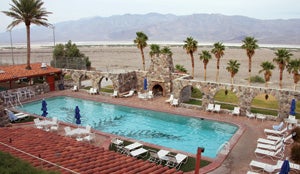 The runway at Furnace Creek is at 210 feet below sea level. The large parking ramp is next to the National Park Service horse/mule corral and can handle a large number of planes. The airport is unmanned, but 100LL fuel is available on call, and rides to the Furnace Creek Inn & Ranch can be arranged from a local phone in a sparse flight-planning room with a restroom. The approach to the airport is surrounded by numerous military operation areas and restricted zones, so it's not uncommon to see exotic aircraft operating in the skies overhead.

The Furnace Creek Inn & Ranch (www.furnacecreekresort.com) is a four-diamond resort set in a palm-covered oasis in the desert. It has an 18-hole golf course, a large spring-fed swimming pool, tennis courts, four restaurants and a borax museum. The decor is "elegant 1930s" with numerous portraits of Death Valley luminaries, miners and characters lining the halls. Views of the surrounding desert are incredible. The ranch is open year-round, and the inn operates from mid-October through mid-May.

Page 2 of 5