Saturday, July 1, 2006
Soloing At 14 Years Old
He's the world's youngest air show pilot and much, much more

Jamail Larkins took his first airplane ride when he was twelve. As he recounts, "I remember going out to the airport. It was a partly cloudy day in the middle of summer. Mr. Fox pulled out his 1956 Cessna 172 and I watched him preflight. Then we hopped in and I helped him go through the checklist. I remember thinking, 'I really can't believe that I'm in the middle of an airplane right now.'"" />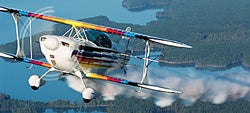 One of Jamail's greatest delights is inspiring other youth, which he does by giving airplane rides and speaking at schools.
And he is definitely involved in a few other things. Since 2003, he has been traveling to schools across the nation with a program called "Dream Launch." When he can, he travels in a Cirrus SR22 and he usually takes kids into the sky at many of his destinations. Last year he hit more than 50 cities, reaching about 18,000 kids in person and an estimated 30,000 more via media coverage of his visits. Not surprisingly, Sheila Bauer and Marion Blakey asked Jamail to be an ambassador for FAA Aviation and Space Education activities across the country. Larkins also sits alongside Cessna CEO Jack Pelton and Cirrus Design CEO Alan Klapmeier as a board member for the nonprofit Build A Plane organization, which gives high school kids a chance to build real airplanes. Within the last year, Jamail has appeared on the
Late Show with David Letterman
,
NBC Nightly News
and lots of other high-profile circuits.
"I'm having the time of my life," Larkins admits. Despite his backbreaking schedule, he has time to sit down and read most of the mail and e-mails he receives from kids he's met across the country. "They're so great. They tell me that after my visit they've decided to learn to fly or are going into an aviation career. You know how fun it is to share something that's really made a huge difference in your life? Well that's how I get to feel all the time."
Jamail Larkins is majoring in aviation at Embry Riddle Aeronautical University in Daytona, Fla., and will graduate this summer with honors. What of his plans for the future?
"Well," he begins to laugh, "I'm thinking it will probably have something to do with aviation!"
Page 3 of 3