Thursday, December 1, 2005
Switching To Glass
Take the plunge! Here are some remarkable tips for transitioning to the new cockpits.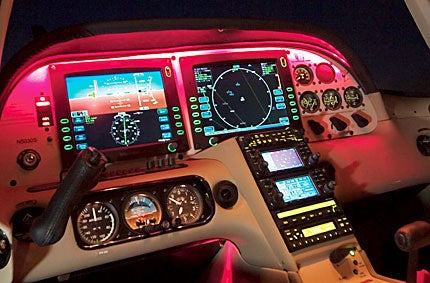 It has finally happened. While waiting for you to land one day, your significant other saw the advertisement for the new glass-cockpit rental airplane, looked it over and now wants a flight in it. "It's so much cleaner than those old airplanes you always fly." Those words stung. "Why can't we fly the new one?" That didn't sting. After some serious negotiating on the flying budget—the new airplane wasn't your idea—you're off to your first glass-cockpit transition lesson. Ensuring your significant other was at the airport on the day of the flight school's glass-cockpit open house was a grand idea. Reading this article before the first lesson is another. These FAQs will make your first glass-cockpit flight go much more smoothly.
What Is Glass?
A glass cockpit contains at least two screens that replace the standard six-pack of flight instruments. The first screen, in front of the pilot, is the primary flight display (PFD), which replaces the flight instruments. The second screen, to the right, is the multi-function display (MFD), sometimes called the multi-frustration display. While the MFD may look like the PFD's identical twin, it has its own personality and functions, such as the moving-map displays and, depending on how many options the aircraft owner purchased, engine instruments, traffic, weather and even instrument charts. The MFD can be considered a backup and an additional information source to the PFD. With the proper options, the weather information includes temporary flight restrictions (TFRs) depicted on the moving map. Imagine knowing about TFRs as soon as they pop into the system, even those that appear while in flight after your weather briefing with Flight Service!

Three of the six familiar flight instruments are left behind as backups. As the average failure time of the black boxes exceed the life span of most airplanes, I figure the backups are there to make "steam-gauge" pilots feel better during the initial transition.

Page 1 of 4