Saturday, September 1, 2007
Synthetic Vision
Beyond Today's Glass Cockpit

For instrument flight, the glass panels that are increasingly common in today's general aviation fleet may be a huge improvement over old-fashioned round "steam gauges"—but if the weather closes in, you're still depending on instruments to provide an artificial substitute for a view of the terrain and runway environment. The primary flight display (PFD) in a typical glass panel combines the functions of yesterday's attitude indicator, airspeed indicator, altimeter and course/deviation indicator on a single screen." />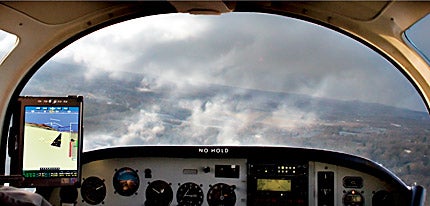 For instrument flight, the glass panels that are increasingly common in today's general aviation fleet may be a huge improvement over old-fashioned round "steam gauges"—but if the weather closes in, you're still depending on instruments to provide an artificial substitute for a view of the terrain and runway environment. The primary flight display (PFD) in a typical glass panel combines the functions of yesterday's attitude indicator, airspeed indicator, altimeter and course/deviation indicator on a single screen. To get an idea of the outside terrain and runway environment, however, you have to look at a separate multi-function display (MFD) with a moving map…unless you're lucky enough to fly with the equipment covered in this article.
The four vendors profiled here offer a feature that's as big a jump above the typical glass cockpit as glass was over steam gauges: computer-generated synthetic vision, which puts a GPS-based view of the terrain and runway environment directly on the PFD. With this equipment, regardless of how bad the weather is, you can fly the airplane with what amounts to a perfect CAVU day presented on the screen in front of you. In most cases, this can be combined with Highway In The Sky (HITS), which gives a visual presentation of your desired flight path in the form of periodic "skyway boxes" or other symbols; fly through the boxes, and you're on track to complete your approach.
Any pilot who's ever flown on instruments in the vicinity of mountains will understand the extra margin of safety and confidence this provides: Instead of guessing where you are in relation to the runway and terrain, you can see your position clearly on the display in front of you. For the first time, an instrument approach can be accomplished with the same ease and confidence as a visual approach.
How is this magic accomplished? Basically, by using the same technology that makes realistic flight simulation possible with a desktop computer. All the systems covered here use a GPS to provide aircraft location and track information. This data is combined with attitude info from an air data computer, and a terrain and runway database, from which a model of the environment around you is generated. An image of the computed terrain is then presented on the PFD, replacing the simple blue-over-brown display that would otherwise be shown.
Page 1 of 3