Saturday, September 1, 2007
Synthetic Vision
Beyond Today's Glass Cockpit

For instrument flight, the glass panels that are increasingly common in today's general aviation fleet may be a huge improvement over old-fashioned round "steam gauges"—but if the weather closes in, you're still depending on instruments to provide an artificial substitute for a view of the terrain and runway environment. The primary flight display (PFD) in a typical glass panel combines the functions of yesterday's attitude indicator, airspeed indicator, altimeter and course/deviation indicator on a single screen." />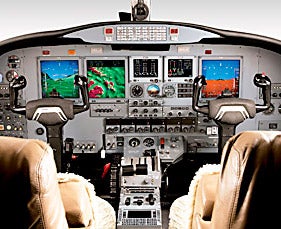 Universal Avionics offers Vision-1, a TSO'd synthetic vision system that's legal for IFR use. It offers both an exocentric (or "wingman") view, in which the display is from a virtual camera above, behind and to the right of the aircraft, and an egocentric view, which gives the pilot a virtual view directly out the front of the airplane.
According to Universal Avionics' Dan Reida, getting FAA approval "required flying dozens of FAA officials all over the country." Vision-1 is now certified for Part 23 and 25 aircraft, including the Pilatus PC-12 turbine single, and Reida says the company is also looking into a custom system for a TBM 700. Installing a system involves extensive modifications, according to Reida. This includes replacing the existing EFIS, and adding to MCU line-replaceable "black box" units. The system usually works with the IFR GPS already installed in the aircraft. Vision-1 is STC'd on the Cessna Citation 501 and multiple models of Beech King Airs. According to Reida, the two-display system for aircraft such as the Pilatus PC-12 runs about $240K, installed. Reida expects systems like Vision-1 to move into less-expensive airplanes in the future, though he says, "Piston singles could be a stretch. What's needed is standardization on the interface between the display and the black box. Today, the interfaces are vendor-specific." System weight and electrical power requirements vary depending on the specific installation. For details, browse
www.universalavionics.com
, or call (520) 295-2300.
Mercury Computer Systems has taken a slightly different approach with its VistaNav system—it offers synthetic vision capabilities on a portable device, specifically a tablet PC running Microsoft Windows XP and configured as an EFB, with functions including GPS/WAAS moving-map navigation, satellite-based weather, terrain awareness and digital approach plates. In addition to the display hardware, VistaNav requires input from a proprietary inertial navigation unit (INU), a WAAS-enabled GPS, and optionally from an XM Satellite Weather radio receiver and Zaon XRX portable traffic detector. Display options include both Class I and Class II EFBs (the latter, certified for use in commercial aircraft, offers 30 fps frame rates for "a truly lifelike synthetic view," along with a sunlight-readable display, according to Mercury's Jeff Simon). The latest revision of VistaNav's software offers the ability to see the aircraft position on airport diagrams, "Touch-n-Drag" map and chart panning, and long-range weather zoom. Simon is particularly proud of a new feature that offers HITS guidance on nonprecision approaches: "Flying a nonprecision approach on HITS is even more critical than using HITS for precision approaches because you can now see exactly how to prepare for landing transitions to nonaligned runways."
Because it's hosted on a portable device, VistaNav can't be TSO'd for use as a primary navigation device in IFR conditions—and thus, unlike the other systems covered here, it doesn't replace conventional instruments. It is, however, legal to use portable devices to provide "situational awareness" on Part 91 flights, provided you tune the built-in instrumentation that's appropriate for the approach being flown. Typical systems weigh less than five pounds. Pricing for VistaNav starts at $4,399 for Class I systems, and $5,999 for Class II systems. For more information, browse
www.vistanav.com
, or call (866) 627-1671.
Page 3 of 3