Wednesday, September 1, 2004
Taking On Extreme Runways
Flying into backcountry strips makes you a better pilot and can be a welcome relief to your flying routine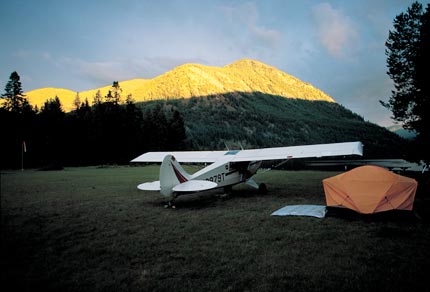 Have you ever wanted more from lightplane recreational flying than driving from point A to point B for the $200 hamburger? (Well, there's aerobatics, but that's another story.) So, instead of thinking of flying from A to Burger, how about A to Backcountry? Before you dismiss this with a "Hey, my airship is a 172, not a Super Cub," read on. We don't have to think of backcountry flying as bush flying, like into a 300-foot gravel bar on the Yukon River. Let's just define a backcountry strip as someplace you can take your ship to pitch a tent, fry your own burgers, take a nature hike, hopefully avoid the crowd and maybe do a little fishing.
The first planning step is to match your airship's capability with some suitable destinations. Some questions to ask yourself are: Is the strip long enough, considering the expected density altitude and a possible downwind takeoff? Is the strip too rough for the landing gear? Are the approach and landing surface a fair match with my demonstrated skills? At what time of the year should I fly to the destination? What should I take? Am I going for a day trip or a monthlong, multi-destination, full campout safari? How will I communicate if there is a problem? Whom can I contact to get current surface conditions and expected weather?

I've been flying my Christen Husky almost exclusively into the backcountry for the past 17 years and almost 6,000 hours. The memories are too many to list, but a few of my best times easily come to mind: the seven-plus echoes off the cliffs at Dirty Devil, Utah, listening to a Mexican music station as the campfire dies and sleep arrives, having a wolf mysteriously appear at my side, then suddenly vanish as I turn away, and, last but not least, the slight adrenaline fix that comes from the first landing at each new place.
The challenging times are even easier to recall and, in some ways, even more pleasant to contemplate: being run out of camp by a bear, dealing with a broken landing gear strut, having problems getting the airplane to start, getting stuck in the mud, sitting in the plane all night long in the wind, rain and cold, being grounded in a tent for days at a time in foul weather, emergency landings at serendipitously appearing deserted strips, and, perhaps the worst of times, setting up camp in 30-plus-knot winds.
Being confident of your airship's mechanical condition and in your ability to improvise solutions are important elements of backcountry flying. Not being able to start the engine is annoying at the burger strip, but at a serious backcountry strip, it has the potential to bust both your vacation and your wallet. Most starting problems can be overcome if you can safely hand-prop your plane. I encourage anyone flying into the backcountry to get competent instruction and experience in doing this, recognizing that for some airplanes, this isn't practical. A lesson that I've learned here is to carry a spray can of starting fluid. A shot or two of this in the carburetor air inlet will do wonders.
Page 1 of 2