Thursday, May 29, 2008
The Desire To Go Lower
Making sense of low IFR approaches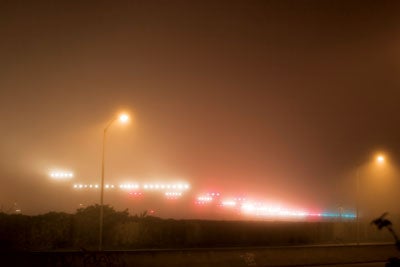 On February 16, 2008, the general aviation community lost one of its members. A single-engine aircraft crashed to the right of runway 10R at Portland International Airport in Portland, Ore., while attempting an ILS approach for the second time in very low IFR (VLIFR) conditions. The pilot sustained fatal injuries and the aircraft was destroyed. Because the NTSB is still investigating this fatal accident, we don't know if this pilot had Category II authorization. According to the preliminary NTSB report, we do know that conditions two minutes prior to the accident were well below Category I minimums for the approach, with a broken ceiling of 100 feet and a runway visual range (RVR) variable between 800 and 1,600 feet. Without Category II authorization, attempting this approach more than once was an accident waiting to happen.
To be fair to the pilot, a Part 91 operator can attempt any instrument approach even if the weather at the airport is currently reporting a ceiling and/or visibility below authorized minimums for that approach. So there's nothing inherently wrong with making multiple approach attempts as long as it's done legally and there's a premeditated choice to eventually divert and not try to push the envelope. While a single attempt may be within reason, with a ground visibility of 1⁄8 statute miles and a RVR of 600 feet, there's nothing that could be gained by a second try, unless you're executing the approach to minimums simply for training or currency.
When you really don't want to divert, there's a temptation to give it one more try, especially when you hear about other aircraft getting in, as was the case in Portland on the day of the accident. It's important to understand that commercial operators have slightly different rules that can be more restrictive but allow for lower minimums in some cases. This was the case for the ILS at runway 10R, which also had a Category II and III ILS approach. This allowed aircraft with specific flight crew qualifications and avionics requirements to fly to Category II or III minimums.
What's even more enticing is hearing "cleared to land" issued by the tower controller while you're still in IMC on the approach; somehow, these familiar words engender a hope of seeing the runway environment the second time around. Nevertheless, some pilots still have the desire to cheat a little bit lower though they lack the proper training and authorization. We don't know if this was the case in this tragic accident, so we'll have to wait for the NTSB's ruling.
Circle To Land In Low IFR
One of the most difficult maneuvers an instrument pilot must make is a circling approach in low IFR conditions. The AIM even weighs in on this by stating in 5-4-20 (f): "Circling may require maneuvers at low altitude, at low airspeed and in marginal weather conditions. Pilots must use sound judgment, have an in-depth knowledge of their capabilities and fully understand the aircraft performance to determine the exact circling maneuver, since weather, unique airport design and the aircraft position, altitude and airspeed must all be considered."

Circling minimum descent altitudes at an uncontrolled field that are below the traffic pattern altitude should be avoided. Even though it's legal to circle to land at some airports with a 500-foot ceiling, it's not wise. This is especially important if the airport has a right-hand traffic pattern, which can make the pattern difficult to fly at such a low altitude.

Be careful with approaches that have excessive descent gradients on final. The major clue here is that the final approach course is essentially in line with the runway centerline, but no straight-in minimums are published. This doesn't mean you can't land straight in, but in a low IFR condition, you may be caught off guard by the excessive gradient that's required, forcing a last-minute circle-to-land maneuver.

When the term Category I, or more simply CAT I, comes up in conversation, the first thing that comes to mind is the ILS approach. It's true that the typical "200 and ½" straight-in ILS procedure is a CAT I approach, but so is a VOR approach with circling-only minimums, although no such label exists on the standard instrument approach procedure (SIAP) chart. (The SIAP chart for Portland is below.) Since 1985, the FAA has referred to all approaches other than CAT II and CAT III as CAT I, for purposes of regulatory authorization.
Page 1 of 2