Tuesday, March 1, 2005
The FAA's Capstone Project
Phase II brings this remarkable high-tech situational awareness a step closer to the Lower 48 states

General aviation in Alaska is different. Changeable weather and difficult terrain create an environment where you'd expect most flying to be done on instruments, but an antiquated route structure and limited navaids make this impossible in many places. Yet many towns and villages depend on aircraft to a degree that's almost unknown in the rest of the country." />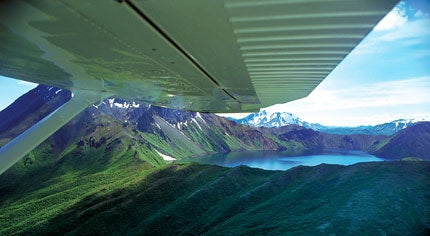 General aviation in Alaska is different. Changeable weather and difficult terrain create an environment where you'd expect most flying to be done on instruments, but an antiquated route structure and limited navaids make this impossible in many places. Yet many towns and villages depend on aircraft to a degree that's almost unknown in the rest of the country. Alaska's road network is comparable to Vermont's—for an area about the size of Texas, California and Montana combined. In Alaska, food, fuel, medicine and (in a few cases) even high-school students move by air—or they don't move at all!
Combine those factors, and it's not hard to predict the result—a lot of scud-running that led to an appalling accident rate. "During the 1990s, it was common to have an airplane crash here literally every other day," says the FAA Capstone Program manager, John Hallinan. "We had about one death every nine days."
Since 1999, though, a consortium including the FAA, commercial operators, the Alaska Pilot's Association, the University of Alaska, MITRE Corporation, some avionics manufacturers and individual pilots has cut the accident rate in the eastern part of Alaska by some 40%. The project that made this possible is called Capstone.
Capstone's key is improved situational awareness—both in the cockpit and on the ground. Two main technologies are used for this system: a global positioning system (GPS) and automatic dependent surveillance-broadcast (ADS-B). Most pilots are aware of what a GPS does for them, but ADS-B may be unfamiliar. It's similar to a conventional radar transponder, but with a couple of twists. A conventional transponder replies only when interrogated by a radar beam. ADS-B transceivers broadcast automatically, presenting the aircraft position, altitude and speed (based on a GPS) and an identifier. Other ADS-B transceivers pick up this information, so it can be displayed on a multi-function display (MFD) in the cockpit. In western Alaska, ground stations pick up ADS-B transmissions and relay them to air traffic control (ATC) facilities, where they're displayed alongside traditional radar.
The result: Pilots now can get flight following in parts of western Alaska that are outside radar coverage and receive traffic alerts from other traffic in the area—either from ATC or directly on the MFD in the cockpit. The same display (usually a Garmin MX20) also provides GPS moving-map and terrain indications. So, obviously, situational awareness improves for pilots using this equipment—but that's just the beginning. ADS-B also can function as a datalink system for weather transmission. NEXRAD imagery in the Bethel, Alaska, area and METARs from many reporting stations are provided over the ADS-B link.
Page 1 of 3