Tuesday, March 24, 2009
The Last 50 ft.
Making it all come together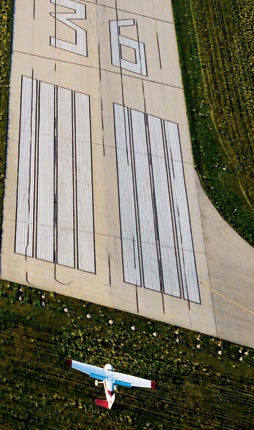 When you're on short final and descending through 50 feet, it really doesn't make much difference how good you are at centering airways, whether you can spout FARs or if you scored 100% on the written: The only thing that counts is how well you actually fly. Everything else is superfluous because every single thing you know about actually flying the airplane is compressed into a 10-second time span and an ever-decreasing sliver of altitude. This is literally where the rubber meets the road and where every one of your moves has measurable consequences.

There is, of course, the little matter of how you get down to that altitude in the first place. As the old adage goes, "The landing is made in the approach," which is a truism. The landing starts on downwind and it then morphs into the complex dance that happens in that last 50 feet. If it's wrong on downwind, then it'll be a continuing struggle to get it right in ground effect.

Without belaboring a lot of often-discussed flight-training tips, let's condense the first part of the approach into a number of guidelines, all of which are (or should be) harped on constantly.

1) PUT DOWNWIND IN THE SAME PLACE EVERY TIME, AS MUCH AS POSSIBLE.
You're trying to set up a consistent pattern so that if the situation calls for modifying your usual way of doing business, you'll have a firm pattern in your mind—a datum to work from—and you'll know exactly what effect any change will have.

2) HAVE DOWNWIND AT EXACTLY THE SAME HEIGHT EVERY TIME.
The height above the ground determines the amount of potential energy the airplane has and determines how far it's going to glide. If you're at a different height every time, then the rest of the approach will have to be adjusted accordingly to compensate. This introduces yet another set of variables when you already have a bunch to deal with. Your goal is to eliminate variables as much as possible.

To compensate for airports with different pattern altitudes, establish a reference on the wing that sets your downwind distance at your home airport. If you're at a different altitude at a different airport, then put your reference point on the runway; it will automatically move you in and out to compensate for the altitude. This gives the same energy-to-distance ratio. Closer in, you'll be lower with less distance to travel; farther out, you'll automatically be higher.
Page 1 of 3