Friday, October 1, 2004
The New Sport-Pilot License Is Here!
Landmark changes from the FAA have just made Flying cheaper and easier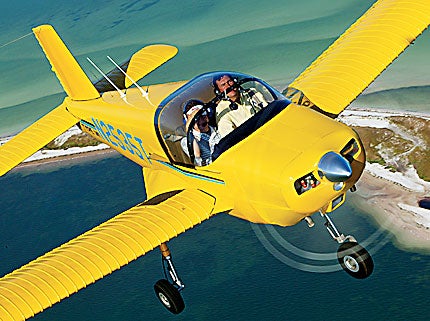 It took more than 2 ½ years to review the more than 4,700 comments on the Federal Aviation Administration's (FAA) 2002 proposal to simplify pilot training and make the sport more affordable and accessible. After a tremendous amount of debate, research and consideration (and a certain amount of suspense), the FAA made its announcement on September 1, 2004: The new sport-pilot license became official, and with it came an entirely new category of planes, the light-sport aircraft (LSA). Many in the flying community think that this single, new piece of legislation may change the face of general aviation forever.
One of the most important—and most debated—changes is that sport pilots will no longer be required to pass FAA medical examinations to fly an LSA. The only medical requirement is that the pilot must be healthy enough to possess a valid driver's license. If the pilot, however, has had a medical disqualification in the past, the driver's license will not suffice, and possible additional documentation will be needed.
Student pilots who are beginning training will find the cost of getting a license significantly less expensive. The sport pilot requires a minimum of 20 hours—half the amount required for a private-pilot's license. According to FAA administrator Marion Blakely, the average cost for a private-pilot's license is $9,000, while the estimated cost to become a sport pilot will be $2,600. Like private pilots, sport pilots also will be required to pass a written exam and a practical flight test with an FAA examiner or designee.
Sport pilots won't enjoy the same privileges as private pilots, however. They'll be restricted to day-VFR flight only. Pilots who intend to fly aircraft that will exceed 87 knots require some additional training. They must receive training and an endorsement to fly in Class B, C or D airspace, and they can't go above 10,000 feet. There are no commercial operations allowed, and nothing can be towed behind the airplane.
The FAA's new rules also make it easy for flight instructors to immediately begin training sport pilots. Certified flight instructors aren't required to take any additional tests or check rides to begin teaching in sports-category aircraft. They're only required to have at least five hours of pilot-in-command time in the type of LSA in which they intend to instruct.
These new sport-pilot license privileges will extend over a variety of aircraft, including gliders, powered parachutes, gyroplanes, weight-shift control, airships and balloons. Aircraft that qualify under the new LSA are limited to one reciprocating engine, two seats, fixed landing gear, a fixed-pitch propeller, a maximum stall speed of 45 knots and a max speed of 120 knots in level flight. Airplanes can't exceed a gross weight of 1,320 pounds or 1,430 pounds for seaplanes.
Page 1 of 4