Tuesday, February 5, 2008
Time To Get Typed
Earning a Citation Mustang rating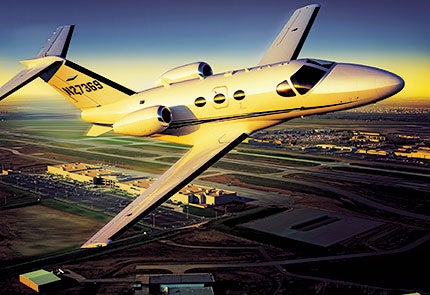 A few months ago, a friend who's getting a Citation Mustang called and asked if I'd be willing to do the type rating with him. The answer was pretty simple: "Uh, yes!" Twelve months prior to the phone call, I'd been selling Flying the G1000 IFR Like the Pros! CDs and teaching single-pilot ops on the Citation 525 series (CJ1/CJ2/CJ3), so I jumped at the chance to fly this new Citation with the Garmin G1000–integrated flight deck. The challenge was that Eric only held a private-pilot certificate with 400 hours, 10 of them multi-engine. (I had met Eric a year earlier when I took his Columbia 400 transition training, so I knew his airmanship, checklist procedures and ability to pick up on things very quickly. Also, because he'd picked up about 250 hours flying his Columbia 400i in the IFR system, Eric had the G1000 down pat.)
Once we had the slot confirmed at FlightSafety International's Cessna Learning Center in Wichita, Kans., I ordered the operating manual and the normal and abnormal/emergency checklists from Cessna Technical Publications. I told Eric to read the whole operating manual, go through the checklists and start memorizing the "memory items." (These items have to be memorized perfectly. You either know them or you don't, and not knowing them can lead to a pink slip during the checkride's oral portion.)
Once we tackled that, the next step was to go through the operating manual and start to play "the numbers game," in which you extract every numerical limitation and list them in some kind of order, either by system or by category. It can be a hard number, such as the max ramp weight, or an associated number, such as how many pounds left in the tank will trigger the fuel-level crew-alerting message.
I recommend that people always show up to type-rating training with three critical documents: memory items, numbers game and systems summary. Systems summary is a typed list of all of the notes that you've highlighted in the operations manual. It's also important to have your instrument skills up to par. The number-one reason that pilots wash out of single-pilot jet courses is that their instrument skills aren't up to standard. A review of the FAA's Instrument Flying Handbook as well as an instrument proficiency check is a good idea.

Two hours later, the checkride was over, and as I brought the aircraft to a stop, a smile appeared on my face—I knew I had passed.

Eric posed an interesting dilemma for Cessna and FlightSafety International (FSI); he had low-hour total time and zero turbojet/turboprop experience. As such, he would only qualify for a two-pilot type rating. Though the Citation Mustang is certified for single-pilot operations, the pilot must also hold a single-pilot type rating, so Eric will get the two-crew rating and fly with a qualified copilot. Once he gets some time under his belt, he can return to FlightSafety for additional training and take the single-pilot checkride. Because this will be Eric's first type rating conducted in a Level-D simulator, a restriction will be placed on his license requiring him to conduct the first 25 hours with a supervised copilot who is already type-rated in the aircraft (this is known as supervised operating experience or SOE). It's important to note that a pilot can simply fly off the SOE restriction by having a type-rated copilot in the right seat, but the best way to accomplish this is via a mentor pilot who's also an experienced instructor.
Page 1 of 2