Sunday, July 1, 2007
WAAS Up?!
Can GPS replace ILS?
The Significance Of WAAS
When I last wrote about WAAS for Pilot Journal in 2003, only seven airports had approaches with LPV minimums. Today there are some 710 airports with LPV minimums, and the FAA is on target to add 300 more every year. Back then, there was only one TSO-C146a navigator. Today there are just two, but more are on the way. A representative of the FAA's WAAS program office told me in an interview that Avidyne is working to offer WAAS-based vertical guidance on their Entegra glass flight decks, and that Garmin "is cranking out something like 500 GNS-430/530 upgrade receivers each week." Back in 2003, the airlines were ignoring WAAS and lobbying the FAA to put money into a Local Area Augmentation System (LAAS) that would offer Cat-II/III capability. Recently, the FAA downgraded LAAS to a research and development program with no plans for operational deployment (though FedEx is working—at their own expense—with the FAA on an LAAS test bed at their Memphis hub). And an FAA source told me that one major cargo carrier will announce acquisition of some 250 GPS-WAAS navigators soon—perhaps by the time you read this. It looks like WAAS is here to stay!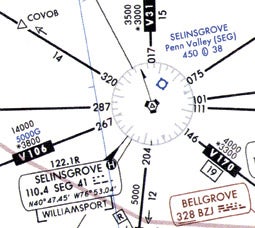 Like any new technology, WAAS has its problems. Last fall, bench tests indicated that the GNS-480 (and other Garmin WAAS systems, which all share a common architecture) might malfunction in "high noise and minimum signal conditions," though so far there have been no reports of this happening in flight. As a result, FAA Special Airworthiness Information Bulletin CE-07-02 and Garmin Service bulletin 0621B limit use of this equipment to IFR flight (requiring a back-up non-GPS navigation method, a non-GPS alternate and Garmin's prediction software). The same issue is delaying introduction of an LPV-capable derivative of the G1000 glass panel for new Cessna Mustangs. Garmin says that the problem will be fixed, but hasn't said when. A representative pointed out that most Garmin GPS navigators have a built-in VOR receiver, and says that so far this hasn't caused a major problem for customers.
One final thought: WAAS-enabled portables are both more accurate and more reliable than a TSO-C129a panel-mount navigator using conventional GPS with RAIM and a barometric input. Indeed, some portables—including Garmin's Model 396 and 496, and C-Map's AVmap EKP-IV (among others) include instrument approach waypoints in their databases. The software in those units isn't designed to walk you through an RNAV (GPS) approach, and certainly won't set you up neatly for ILS-like LPV minimums, but still could be a real lifesaver in a pinch!
For More Information:
GPS/WAAS Approaches
http://gps.faa.gov/CapHill/indexApproach.htm
(includes FAQs and an up-to-date list with LPV and LNAV/VNAV minima)
SatNav News
http://gps.faa.gov/Library/indexSatnav.htm
(from the FAA's Satellite Navigation Project Teams)
Garmin GNS-480 and GNS-430W/530W Simulator/Trainer Software
www8.garmin.com/include/SimulatorPopup.html
Page 4 of 4