Thursday, June 11, 2009
WAAS
GPS Approaches for Every Airport?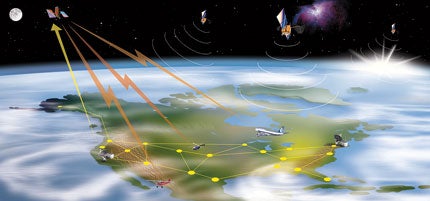 The combination of the GPS and WAAS satellite constellations provides all of the United States with the capability for WAAS accuracy and approaches.
The benefits of transitioning from pilotage to dead reckoning, four course ranges, ADF, VORs, Loran and then to GPS have been nothing short of spectacular. Each successive type of navigation brought the potential for more accurate navigation, better flight-planning capability, improved fuel management and a more knowledgeable and comfortable experience for the pilot. You could say that each step was a quantum leap in terms of capability. In the last few years, the use of the acronym WAAS has become commonplace, yet many pilots don't understand exactly what WAAS brings to flying.
To begin with, WAAS stands for Wide Area Augmentation System. In this article, we'll review some of the features and benefits that are inherent in WAAS. One way to view WAAS is as a more accurate GPS. More appropriately, it's a more accurate GPS with some bells and whistles that provide the basis for a variety of new instrument approaches. Given that, could you or would you say that WAAS is another quantum leap forward in navigation? Depending upon your criteria, the answer could go either way. For two reasons, I lean toward the belief that it is, indeed, another step up the navigation curve.
Page 1 of 4