Tuesday, May 20, 2008
Wings In The Wilderness
Flying safely in the backcountry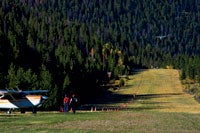 "It took an extra year, but something good came out of it," says Hanselman. Since then, spurred by renewed interest in these airstrips, volunteers have helped improve some of them, putting in windsocks and making them a little more pilot friendly.
"It's the only way we're going to be able to keep them open," Hanselman explains. "My role in general aviation is just to let people know what's going on in backcountry aviation, and promote a little safety and education. And I think that will give us a shot at keeping the backcountry open for our children."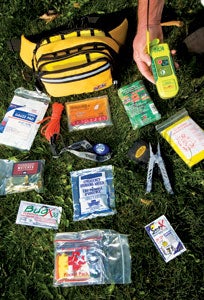 The 7 Essentials Of Backcountry Flying
The skills and techniques of backcountry flying can take years to master. Hanselman includes numerous tips in his books, but here are seven basic rules that can keep you safe in the backcountry.
1
Get Proper training. Seek out training from instructors who have backcountry flying experience. The challenges of obstructions, high elevations, rough fields and other hazards unique to the environment demand a precision of control that must be practiced in the backcountry. The backcountry is no place for do-it-yourself training.
2
Carry a personal locator beacon (PLB). "I can't say enough about the importance of a personal locator beacon," says Hanselman. PLBs take the "search" out of search and rescue. Within minutes of activation, a distress signal is sent via satellite to emergency centers, and rescue efforts commence. As the beacons are personally registered to their owners, rescuers know not only where to look, but also who they're looking for.
3
Carry a survival kit. Have a survival kit designed for the wilderness environment you'll be operating in. It must carry all necessary survival items, yet still be compact and light. "Rob Hunter [of PreparedPilot.com] put one together for my purposes," says Hanselman. "It has to be small. Sometimes you're heavily loaded, and you don't have room for a big survival kit."
4
Have an emergency plan and brief all passengers before the flight. In addition to a regular preflight briefing, discuss survival plans and the location of emergency gear. Always show passengers how to operate the PLB; it could make the difference between being rescued and being stranded. Also, file a flight plan noting your route, or tell others where you're going and when you'll be back.
5
Pick the best emergency landing spot. If you've got a choice of rocks, water or some trees, go for the trees. In the event that an off-airport landing is required, if possible, land (uphill) on an open ridge where you have the best chance of being spotted. Don't land in the water in creek bottoms. Even in the summer, the cold water can be a hypothermia risk. Trees are a better choice. Take them straight on, using the wings to absorb most of the energy. Consider landing early, rather than stretching a glide and risking a stall/spin.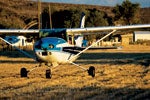 6
Be on the ground by 10 a.m. and stay there until 4 p.m. As the air heats up during the day, turbulence and shifting winds, updrafts and downdrafts create hazards amplified by the high elevations and uneven terrain. Plan on arriving at your destination by 10 a.m. The winds begin to die down around 4 p.m., or as the shadows cross the runway, and continue abating until darkness.
7
Only fly in good weather. "Weather is what gets us," comments Hanselman. "I've lost many friends who were incredibly good pilots—the weather got them. I feel commercial pilots are under pressure to push that weather. As recreational pilots, we really have a big advantage. If it looks crappy, stay where you are. Spend another night, meet more people, have a good time."
Ordering Info
To order books by Galen Hanselman, contact Q.E.I. Publishing at (800) 574-9702 or www.flyidaho.com.
Page 3 of 3
Labels:
Bush Planes
,
Decision Making
,
Features
,
Flight Hazards
,
Flying Skills
,
Journeys
,
Learning Center
,
People and Places
,
Pilot Skills
,
Safety
,
Travel
,
Backcountry Flying