Wednesday, June 1, 2005
12 Tips To Beat The Heat
Here are a dozen effective suggestions for safer summertime flying

Most new-production and many high-performance aircraft have fuel-injected engines. There are some advantages of fuel injection over carburetion, but one drawback is that injected engines can be difficult to start when hot. Fuel vaporizing in fuel pumps and lines needs to be purged before the engine can fire. Here's where a good read through the Pilot Operating Handbook (POH) is worthwhile—it should contain a hot-start procedure that takes into account the airplane's design and make of its fuel-injection system. What is good hot-starting practice in some types can be downright damaging in others." />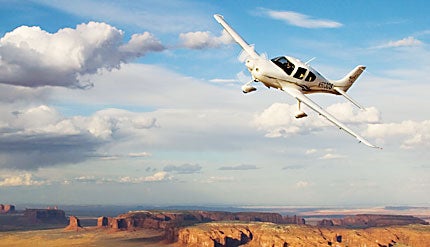 1
HOT STARTS
.
Most new-production and many high-performance aircraft have fuel-injected engines.
There are some advantages of fuel injection over carburetion, but one drawback is that injected engines can be difficult to start when hot.
Fuel vaporizing in fuel pumps and lines needs to be purged before the engine can fire. Here's where a good read through the
Pilot Operating Handbook (POH)
is worthwhile—it should contain a hot-start procedure that takes into account the airplane's design and make of its fuel-injection system. What is good hot-starting practice in some types can be downright damaging in others.
When do you need to perform a hot start? If the oil temperature is in the green arc when you turn on the battery, you'll likely need a hot-style start to fire up. This is most common when you're making a quick turn for fuel or to drop off a passenger, even more so if the airplane sits for 15 or 20 minutes, enough time to completely heat soak and vaporize fuel. Shutting down and immediately restarting is sometimes less difficult than starting after a short delay. But I've seen green arc oil temperatures before the first flight of the day, when the airplane has been sitting out in the summer sun.
To reduce the level of heat that builds up during a quick turn:
•
Park in the shade if possible.
•
Park directly into the wind—air will flow into the cowling.
•
Leave cowl flaps open to ventilate the engine compartment.
•
Open the oil access door and, if the design allows, open the cowlings. (Don't do this in windy conditions, or if there's a change, another airplane's blast will hit the open doors.)
•
When conditions dictate a hot start, do the hot-start procedure first. Trying the normal procedure first may result in not a hot and
flooded
engine.
Page 1 of 5