Thursday, July 1, 2004
Crosswind Landings FAQs
Maintain and expand your skills by unraveling some frequently asked questions about this intricate technique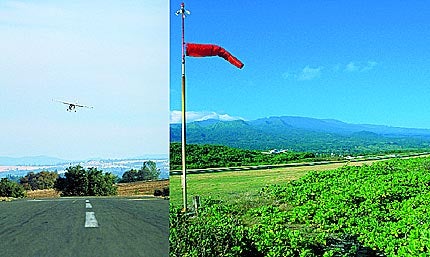 The crosswind landing is a complex maneuver to understand and execute. There are many changing forces to evaluate and juggle simultaneously, and the high degree of control coordination and timing required is seldom matched by any other maneuver of a normal flight. This means that a pilot must use the technique frequently to remain proficient.
Many pilots, however, are simply unable to fly as often as they wish. And they elect not to fly in crosswinds, which could test their ability to handle them. It's no wonder our crosswind ability is often one of our first pilot skills to get rusty, making it a major cause of flying accidents.
But the key to mastering this skill lies in the full comprehension of the elements involved. So, for those who would like to maintain and expand their crosswind skills, here are answers to some commonly asked questions about this complex maneuver.
Q:
How can I estimate all the crosswind components?
A:
Wind socks that are used at general-aviation airports are normally designed to stiffen at 15 knots. Thus, a sock drooping at a 45-degree angle indicates a wind velocity of about seven or eight knots. If the sock is angling 30 degrees off the nose, estimate the crosswind component at 1⁄2 the wind's velocity. If it's at a 45-degree angle, calculate the component at 2⁄3 the wind's velocity. At 60 degrees, use 3⁄4 the wind's velocity.
Q:
How much crosswind is safe?
A:
Each make and model has a designed maximum crosswind component that it can accept. This limit is often stated in the plane's
Pilot's Operating Handbook (POH)
. If it isn't, apply a rule of thumb: 25% of the plane's flaps-up stall speed.
Additionally, pilot skill places a limitation on crosswind safety. Avoid crosswinds that exceed your demonstrated ability; divert to another runway or nearby airport. To best evaluate, maintain and expand your crosswind skill, schedule semi-annual dual instruction flights in crosswinds that exceed your comfort level.
Page 1 of 4