Tuesday, June 8, 2010
Dealing With Convective Weather
Some pilots simply lock their airplanes in the hangar when convective weather is about. Others learn to cope.
CONVECTIVE WEATHER:
AVOIDANCE PRODUCTS
These days, there are a number of products that can provide an excellent picture of the weather ahead. Here are thumbnail sketches of a few: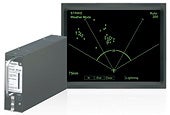 L-3 Stormscope
Whenever two masses of air rub together horizontally or vertically, the friction of the opposing air currents causes an electrical discharge. The Stormscope Weather Mapping System by L-3 Avionics Systems tracks those electrical discharges by frequency and displays their position, alerting a crew to both electrical disturbance and turbulence. The L-3 Stormscope provides a visual presentation of electrical discharges and lightning out to 200 nm in either a forward or 360-degree view. Visit www.L-3avionics.com.



Insight Strike Finder


Strike Finder Digital Lightning Detection is a similar design that works on the same principles as the Stormscope. Strikefinder offers variable ranges of 25, 50, 100 and 200 miles and an ultrabright LED digital display. Cells show up clearly as the system's yellow dots appear in multiple clumps, suggesting where not to fly. Visit www.insightavionics.com.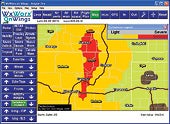 XM WX Satellite Weather
XM WX Satellite Weather provides a wide variety of weather products that are uploaded from the ground on datalink. Once you subscribe to the service and purchase a compatible uplink-capable device, you have access to NEXRAD, lightning, turbulence, pireps, freezing level, icing and many other products. The service operates 24/7 and plays through everything from standard PCs to a number of portable GPS receivers. Visit www.xmwxweather.com.



WSI


WSI Weather Solutions has been providing weather information for the government, the military and business aviation for nearly 30 years and offers real-time data and forecasts for clients all over the world. WSI transmits forecasts and current conditions such as NEXRAD, lightning, icing and other weather information continuously. Visit www.wsi.com.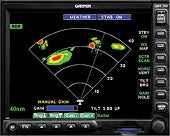 Garmin Radar
Garmin joined the radar club in 2005 with the GWX 68 radar, a full four-color system that interfaces with the company's G1000 glass panel or the popular MX20. The Garmin 68 radar comes with either a 10- or 12-inch antenna and offers ranges of 270 and 305 nm, respectively, with a near-infinite number of selections in between. It offers pitch-and-roll stabilization, can read altitudes to 50,000 feet and has a powerful 6.5 kW magnetron. Visit www.garmin.com.



Bendix/King Radar


Bendix/King by Honeywell has long been one of the leaders in weather depiction radar, and the current line of products allows the display of uplinked weather on the company's real-time radar detector, the best of both worlds. The KMD 250, 550 and 850 all are compatible with the KDR 510 VHF uplink receiver. All the Bendix/King radars offer multiple ranges, color display and gyro stabilization. Visit www.bendixking.com.
Page 4 of 4