Sunday, May 1, 2005
Don't Be Dense About Density Altitude
As the warm weather arrives, your airplane's performance can really suffer

It can prevent you from taking off from the same runway you did the day before. It will sap power from your engine. It can eliminate any chance of a climb rate on departure. It can drastically increase your takeoff and landing rolls. What aviation phenomenon has this much power over your flying? Density altitude. And if you fly without paying it due attention, you may find yourself staring down the end of a runway without hope of stopping or taking off. Even if you do make it in the air, high-density altitudes can cause you to quickly meet up with terrain that has a gradient superior to your ascent." />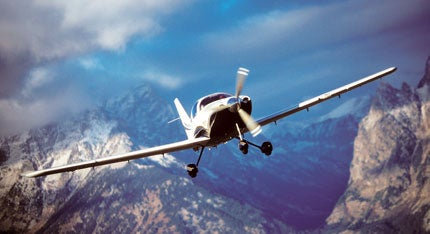 It can prevent you from taking off from the same runway you did the day before. It will sap power from your engine. It can eliminate any chance of a climb rate on departure. It can drastically increase your takeoff and landing rolls. What aviation phenomenon has this much power over your flying? Density altitude. And if you fly without paying it due attention, you may find yourself staring down the end of a runway without hope of stopping or taking off. Even if you do make it in the air, high-density altitudes can cause you to quickly meet up with terrain that has a gradient superior to your ascent.
Yet there's no way a pilot can grasp what density altitude is all about without knowing a little about the word "density." Its official definition is "the quantity of something per unit measure, especially per unit length, area or volume." In the case of density altitude, it should read "the quantity of gas molecules per unit of volume." Each gas (air) molecule has a certain mass or weight. The more air molecules per unit of volume, the more tightly populated is that unit of volume. Thus, we say that parcel of air is more dense.
According to the laws of physics, if the temperature and/or pressure of a gas are altered, density (remember: number of molecules per unit of volume) also will change. For example, if you heat gas, the air molecules begin to move faster and strike each other. As they perform this dance, they spread out. Think about it like breaking the balls on a pool table. One fast-moving molecule comes in and hits some other molecules, speeding them up and spreading them out. In the long run, fewer molecules will occupy a given unit of volume, such as a square foot.
The opposite is true with decreases in temperature—molecules slow down and become more closely packed. Take water, for instance. There are more water molecules in a cubic foot of liquid (cooler) water than in a cubic foot in gaseous (hotter) form. If you don't believe me, weigh them and see for yourself (more molecules equals more weight!).
Pressure also affects density. Increasing pressure smooshes molecules together, packing in more per unit of volume. In other words, density increases. The reverse occurs if pressure is decreased. When pressure is released, molecules can stretch out and have some breathing room. As they spread out, there are fewer per square foot, or whatever measurement you use, as density decreases. While variations in weather conditions have an effect on the ambient pressure, the biggest influence is altitude. Remember that for every 1,000 feet in altitude change, there's one inch of mercury change in pressure. So the difference in molecular compression due to ambient pressure is much less in Denver, Colo., at around 5,000 feet versus Tampa, Fla., which sits near sea level.
Density altitude is commonly referred to as the actual altitude at which the plane "feels" it's flying. For instance, an airplane taking off in Billings, Mont., (elevation 3,500 feet) with an altimeter setting of 29.82 and a temperature of 40 degrees C is being flown at a density altitude of 7,100 feet—the aircraft actually "feels" as if it's flying at 7,100 feet. So the engine, wings and propeller act as though they're much higher than what is read off of the altimeter. Hopefully, every pilot is aware that his or her plane flies a lot different at higher-density altitudes and some care is in order. That's the layman's version. Just like everything else in aviation, though, density altitude has an official defini-tion: "pressure altitude corrected for non-standard temperature." Do you recall how temperature and pressure both influence density? Aren't those two key words found in the definition of density altitude? Absolutely. So, basically, by calculating density altitude, we're figuring out how atmospheric pressure and ambient temperature affect the airplane.
In fact, increases in density altitude, that is, fewer molecules, decreases the available horsepower created by the aircraft's engine and steals performance from the wings and propellers. It also causes the aircraft's true airspeed to increase. But how can the number of air molecules, which are so small they can't even be seen by the naked eye, keep airplanes from becoming airborne and rob them of vital performance?
Page 1 of 2