Thursday, April 1, 2004
Prime Time For Icing
Although winter may have the reputation, springtime can be just as notorious when it comes to freezing conditions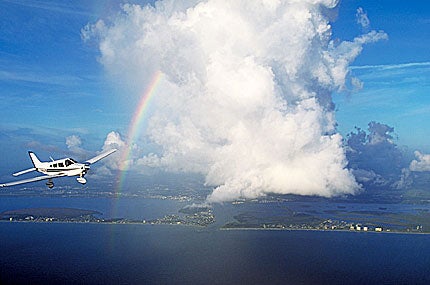 The first hints of warmer weather can cause a sigh of relief. Finally, winter is over. The grass is getting green. The birds sing. You know the story. But spring is a time when temperature ranges can easily move up and down above the freezing level. And even if it's comfortable for your airplane when you're on the ground, that doesn't mean things will stay that way once you're airborne. With slushy runways and spring showers to deal with, it's an easy time to get into trouble, on the ground and in the air.
Many parts of the country can still experience snow and ice storms until relatively late in the spring. Even frosty early-morning departures can be a nuisance. Dealing with ground icing conditions or snow accumulation is a relatively obvious matter. Simply stated, if there is anything sticking to the airplane (including mud) that doesn't belong there, don't take off until it's removed. If you can't remove it or it accumulates faster than you can remove it prior to takeoff, don't go flying until conditions improve.
Perhaps, the first thing we should look at is how to detect the contamination in the first place. Ice contamination can take on some pretty subtle and hard-to-detect forms. Potentially, the most dangerous of these is frost. It can take on an appearance as subtle as dulling paint and it's virtually undetectable to the eye. Sometimes, the only way to reliably detect it is to get out and touch the airframe. This is referred to in the FAA circles as the "tactile test." It usually will feel like 80-grit sandpaper. However, it also can be as smooth as glass, which is called clear ice. In any case, the best way to really be sure that the aircraft is truly free from contamination is to get out and closely inspect it with your eyes and hands.
The second part of dealing with ground icing conditions is, once you've determined there is contamination on the aircraft, how to get it off. The answer can be as simple as going home and waiting for things to warm up or as complicated as calling over the de-ice crew with all their fancy (and expensive) equipment. Most general-aviation pilots don't consider de-icing equipment as a viable option—and that's not all bad.
A rather infamous cargo operator spent over $35,000 one night de-icing his DC-8 in the Midwest when freezing rain came along and sent the crew back to the hotel to wait out the storm. They departed eight hours later in gorgeous conditions.
Prior to any takeoff, it's also important to be aware of the contamination on the taxiways and runways. Snow, slush, mud and water that get flung up on the aircraft and into the landing gear and brakes actually can prevent the gear from retracting properly or coming back down when you'd really like to land.
Wet and icy runway conditions are, of course, not limited to takeoffs. Arrivals can be just as hair-raising. Runway braking conditions may make it difficult, if not impossible, to land the aircraft safely. There are only a few things that can make that pit in your stomach do cartwheels, and battling with the weather while dodging all that mother nature has to throw at you, only to find yourself on the ground and traveling down the runway sideways, is one of them.
We've all read lots about airborne icing. Most general-aviation aircraft that are equipped and certified to fly into known icing conditions as a practical matter should only be flown into light forecast conditions. There are no U.S.-certified aircraft that are approved for flight into severe icing (not even the DC-8). Flight into forecast moderate icing is just asking for trouble. So remember: Exercise extreme caution. Do you really trust a weather report prepared by someone who works in a building with no windows?
Page 1 of 3