Tuesday, January 1, 2008
Winter Flying: A Strategic Approach
Tips for staying safe in a cold season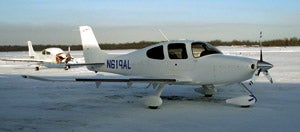 If you use a combustion-type preheater prior to flight, you'll have to arrive at the airport early enough to accomplish a thorough preheat. That also means staying with the airplane as the engine preheats, because these things can burn if left unattended. And it's cold out there.
If the airplane is parked outside, you'll need wing covers to prevent frost, ice or snow buildup on the flying surfaces. They require additional time prior to flight to remove and stow. Speaking of thinking strategically, it's a good idea to order those covers before the first blast of wintry weather descends upon your part of the country.
Of course, the ideal solution is to park your airplane in a heated hangar. I've never been blessed with the use of a heated hangar for my personal airplane, but based on my experience as a working pilot in Alaska, a heated hangar can shorten your flying day by nearly two hours, compared to parking outdoors.
In summer, the weather feature that absorbs a great deal of our attention is the thunderstorm. There's no doubt that thunderstorms, particularly lines of thunderstorms, are a serious threat, but avoidance is the key to safety, and that's more of a tactical exercise than a strategic one. On the other hand, in the kinds of airplanes I often fly, trips around thunderstorms can become a long-term venture.
Winter weather, on the other hand, requires more of a strategic approach, particularly in terms of managing risk. The weather systems tend to be larger and there are some nasty conditions out there, such as icing, that are less of an issue in the summer. Also, winter weather tends to be more difficult to accurately forecast.
Page 2 of 4