Tuesday, January 1, 2008
Winter Flying: A Strategic Approach
Tips for staying safe in a cold season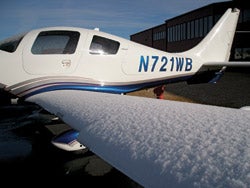 Remember that forecasters, like pilots, are human. For more than 10 years, my office was next door to an NWS forecast office. I spent a lot of time with the meteorologists next door in an attempt to improve my own weather knowledge and, of course, to improve my dispatch reliability and safety. Every meteorologist I've met tries really hard to "get it right," but everyone has an off day. Forecasting weather is a difficult task, and while contemporary meteorologists have far more tools than their predecessors, the forecast itself is still one person's (and in some cases, one computer's) best guess about what will happen next. So, following the trends for a few days prior to a trip can help to identify an isolated questionable forecast.
As the day of the proposed launch approaches, a closer look at current weather created by the systems affecting the weather is justified. On the day of the proposed flight, my recommendation is to brief with an Automated Flight Service Station briefer. Why not self-brief on DUATS? Because I want to get one more opinion on what the weather may be up to. Bear in mind that AFSS briefers are only permitted to provide the weather products to you—they aren't forecasters, but they can interpret the weather graphics over the phone and they can tell you how accurate the forecasts have been for a particular weather system. Briefers sit at a console and provide weather information to pilots during a full shift, day after day. Many of them become pretty good prognosticators in their own right, particularly if they work a certain region of the country all the time. While they aren't supposed to "interpret" the weather themselves, many of them will provide a pilot with a pretty good assessment of what they see in the observed weather, which can be invaluable. Unfortunately, we're losing some of this "tribal knowledge" in many areas because of the consolidation of the Flight Service function.
If, at the proposed launch time, the weather looks flyable—based on the capabilities of the aircraft and the pilot—a thorough preflight inspection is in order. While cold and dark may make winter preflights less pleasant, it's even more essential that the winter preflight be thorough. Fuel quantities and quality should be verified. Using an anti-icing additive in the aircraft's fuel in winter helps to prevent fuel-line blockages and stuck quick drains. Be sure to consult the engine manufacturer's recommendations on which additive to use, but for most piston-engine aircraft, either Prist or isopropyl alcohol is approved for use.
As you load your gear for the flight, double-check your survival gear, including sleeping bags for all occupants and other cold-weather gear. A personal locator beacon (PLB) is a great addition to your personal survival gear, particularly in winter, when a rescue can be accelerated greatly by one of these devices. Be sure the engine cover and wing covers are aboard. In winter, I bring a small combustion heater called a Northern Companion to use both as a survival stove and as an engine preheater in the event I have to land at an airport with limited services. Having the tools to bed down your airplane almost anywhere is an essential winter-flying strategy. Knowing that you'll be able to get the airplane going again in the morning, regardless of where you park for the night, opens all sorts of options when your best weather assessments just don't pan out and getting on the ground fast is your best option.
If you opt not to fly a planned trip, don't just forget about the trip; continue to watch the weather conditions along your proposed route of flight to see if your decision to stay on the ground was well founded. If it was, congratulate yourself for being a good strategic planner. If not, consider it a learning process, store the knowledge you gained on this one, and apply it to the next flight.
Finally, next time you're grounded due to weather, improve your knowledge of winter flying and weather forecasting by taking some of the Air Safety Foundation's online courses, at
www.aopa.org/asf/online_courses
.
By all means, take advantage of the winter flying opportunities that are available. Join the skiers and snowmobile crowd. If you can't avoid winter, learn to enjoy it, and a strategic approach to your flying will help you do so safely.
Page 4 of 4