Aviation Travel
Whether you're flying to one of your favorite vacation spots, or to a remote airstrip high in the mountains, aviation travel is an experience unto itself. Browse our aviation travel section and capture the atmosphere of adventure flying.
Friday, February 12, 2010
Plane & Pilot Flies Supplies To Haiti

Since the devastating earthquake in Haiti four weeks ago, the number of general aviation pilots and airplanes making relief flights to Haiti is increasingly making a positive impact on the boundless need there.
Tuesday, September 22, 2009
P-51 At Twenty One
Celebrating one family's passion for warbird

As the fighter taxis by, the sound of 12 hot-water Merlins crescendos, crackles and pops as the early-morning sunlight glistens off the silver paint highlighting the name Glamorous Glen III—the markings of Chuck Yeager's Mustang from the 357th Fighter Group.
Wednesday, September 9, 2009
Best Of The West!
Where we love to fly

One of the great benefits of general aviation is having easy access to spectacular destinations around the world.
Tuesday, August 25, 2009
Days Of Celebration, Days Of Dreams
10 new planes that offer encouragement and new visions for aviation

We may well mark 2009 as a dramatic evocation of past and future, a time when the traditional veneration of past achievements and the bright and amazing promise of future technology both occupied center stage.
Tuesday, July 28, 2009
¡Chile Lindo!
Tour Aviation Chile guides pilots through a stunning slice of South America

Take the best nature has to offer: sandy beaches, snowy mountains, deep blue lakes, smoking volcanoes, glaciers, fjords, waterfalls, archipelagos, geysers, salt plains, hot springs—you name it—and mix in delicious seafood, lush vineyards, warm hospitality and 350 airports, and you've got Chile.
Tuesday, July 14, 2009
Transatlantic In A Twin Star
An epic journey, in the footsteps of Alcock and Brown

This year marks the 90th anniversary of the first nonstop flight across the Atlantic by pioneering aviators Captain John Alcock and Lieutenant Arthur Whitten Brown (in 1919).
Tuesday, May 26, 2009
Air Show Roundup: Sun 'n Fun 2009

In spite of lighter attendance than last year, the 2009 EAA Sun 'n Fun Fly-In drew an enthusiastic crowd to Lakeland, Fla., for the week's festivities.
Tuesday, April 21, 2009
The Country Pilot
Joining the farm team for tailwheel training

He calls himself the "Country Pilot," and with his herd of taildraggers and 3,000-foot farm field, he cultivates the art, science and joy of simple stick and rudder flying. He's even apt to begin sentences with, "I'm just a country pilot…," when relating how he prefers good weather when flying his PA20 Pacer on the 1,000-mile journey to Sun 'n Fun, or why the Pitts S-2B he bought himself as a retirement present in 2002 has all the performance he'll ever need for aerobatics.

Tuesday, April 7, 2009
Fly The Bahamas
What you'll need to know as a first-timer to the out islands

For many pilots, it's a rite of passage; for others, it's their daily work. Some are fearful at the thought of so much water below, and their first flight over an ocean becomes an adrenaline-fueled leap of faith.

Monday, April 6, 2009
Blimpin'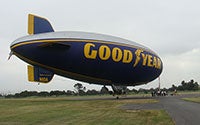 As I drive down the 405 freeway toward the Goodyear Blimp Base in Gardena, Calif., I can't help but think that, in 20 minutes, I'll be in an aircraft flying at half my driving speed. Not only that, I'll be in one of the world's most recognizable aircraft with one of aviation's most recognizable heroes, Mike Melvill, pilot/astronaut of Scaled Composites' X Prize–winning SpaceShipOne.
Tuesday, February 10, 2009
Fly-In Dining Grows Up

Few things go better with aviating than eating. There's something supremely magical about liberating yourself from the bonds of terra firma to land at a destination where a hot meal and good conversation await you. Unfortunately, pilots think about eating in the most boring and mundane terms. We fly more for the experience—not the food—and we accept mediocrity.
Tuesday, December 16, 2008
Plane Living
Finding a residential airpark that's right for you

What's an aircraft owner's definition of a "housing crisis"? Owning a home that's too far from the airport. Fortuntately, there's never been a better time to develop a rescue plan.

Tuesday, December 16, 2008
Johnson Creek: Backcountry Fly-In Mecca
Once a year, this remote Idaho strip becomes Super Cub central

Mention the words "Johnson Creek" to any backcountry pilot, and he or she will give you a wide smile, nod in approval, and describe a place of rugged beauty and challenging flying.

Wednesday, December 10, 2008
The $1.8M Alternate!

How would you like to be on a flight and have a weather diversion cost 1.8 million dollars? That's the estimated cost of manpower, materials and fuel it takes to land the space shuttle at Edwards AFB in California instead of at its home base at Florida's Cape Canaveral.
Tuesday, October 21, 2008
Space Flight For Sale
How Virgin Galactic and Scaled Composites are rewriting the rules of space travel

While most little children around the world were being read to sleep with soothing fairy tales, Lina Borozdina was getting tucked in for the night with stories of space travel. Her father would sit next to her bed and conjure up wild tales of how his daughter would stow away in a rocket bound for space, only to be discovered when zero gravity betrayed her and caused her to float out into the cabin. Each night, his stories would take Lina on different adventures into the far reaches of space. In doing so, he planted the seeds of a dream.

Wednesday, October 1, 2008
Google Earth: The Ultimate Preflight Tool
How to view 3D depictions of sectional charts with real-time weather and much more!

To this day, I can remember a rather "interesting" experience that occurred on a long solo cross-country while I was pursuing my private pilot license (almost 20 years ago). The time to my last waypoint, the destination airport, had expired, yet the field was nowhere in sight. After a few moments of panic and rechecking of numbers, I looked down, and (aha!) there it was.

Tuesday, September 30, 2008
Extreme Flying
The 109th Airlift Wing pilots the world's largest ski plane to the Greenland ice cap

The horizon is overrated," quips Major Bryan Elsworth from the right seat of the LC-130. I think he's joking, but I'm not positive.
Tuesday, September 16, 2008
Air Show Roundup: Oshkosh!
Despite concern over fuel prices and the economy, more than 10,000 aircraft and 540,000 people attended EAA AirVenture 2008 in Oshkosh, Wis., between July 28 and August 3. Here's a look at some of the event's most exciting aircraft.

Headlining the air show was the Collaborators formation aerobatic team: Sean Tucker (Oracle biplane), Ben Freelove (Extra 300), Eric Tucker (Extra 300) and Bill Stein (Edge 540). The four-ship team's performance combines the grace of formation flying with the drama of hard-core aerobatics. This year's new maneuvers included an inside-outside 8, Cuban 4 and split S, all flown in diamond formation. Other crowd pleasers were the formation hammerheads and triple rolling rejoins.
Monday, September 1, 2008
With Six, You Get Aileron Roll
Join this six-pack of Cubbies on a low-and-slow cross-country jaunt, and hone up on your

"Uh oh," crackles Rand Siegfried's voice over the intercom. "There goes A.D.D. again." He chuckles, "I think we'll have to do something about that." And just like that, the sky drops away and we're in a brain-floating dive in pursuit of Bob Elliott's Legend Cub.
Monday, September 1, 2008
Flying In Israel
The historic region comes alive with Roman ruins, harsh deserts and lush agriculture

Ahead and to the left, the startling deep, blue Dead Sea waters emerge from the light haze, in jarring contrast to the desolate, brown world of the Judean Desert, over which our airplane has been cruising for the last 15 minutes.