Wednesday, October 1, 2008
Google Earth: The Ultimate Preflight Tool
How to view 3D depictions of sectional charts with real-time weather and much more!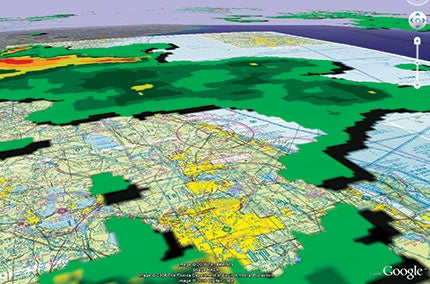 Severe weather over Florida.
To this day, I can remember a rather "interesting" experience that occurred on a long solo cross-country while I was pursuing my private pilot license (almost 20 years ago). The time to my last waypoint, the destination airport, had expired, yet the field was nowhere in sight. After a few moments of panic and rechecking of numbers, I looked down, and (aha!) there it was.
Anyone who has flown long enough can appreciate how this type of scenario can happen. Flying in unfamiliar territory and into strange new airports can be quite a task, primarily because you've never seen the scenery before. Try finding some obscure grass strip down south—it's like looking for a needle in a haystack. Even with the fanciest GPS units guiding you, it can still be hard to identify certain things from the air. But it doesn't have to be that way anymore. Now, before you even get in the airplane, you can use sectional chart overlays on Google Earth to show you exactly what to expect on a flight. Best of all, it's free!
Getting Started
Download Google Earth at
earth.google.com
. (Because it's frequently updated, be sure that you have the latest version.) Next, log on to
www.wikihow.com/Overlay-Sectional-Aeronautical-Charts-in-Google-Earth
. (Type this address exactly as it appears here; if you lowercase the "A" in "Aeronautical" or capitalize the "i" in "in," the link won't work.) Scroll down to "Sources and Citations," and click on "Sectional data download." Once the sectional data has downloaded, you should see a folder labeled "Aero Charts" under "Places" in the Google Earth sidebar.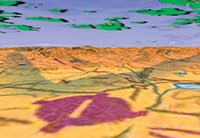 An uncontrolled airport near Crawford, Colo.
Google Earth allows pilots to visualize terrain, buildings and weather, among other things, over sectional charts. Additionally, they can familiarize themselves with unfamiliar airports, checkpoints and destinations with this invaluable flight-planning tool.
Within the aero chart folder there are four options. There's an "About" item so you can learn more on the overlay feature. The last three options are the most interesting: sectional charts, terminal area charts and 3D airspace. If you have the latest sectional data and an updated version of Google Earth, when you click on "Sectionals," every sectional chart will be superimposed on the correct spot. The same applies to terminal area charts. Three-dimensional airspace can be added so that you can view what Class B or C airspace will look like from any angle or altitude. (Keep in mind that none of these charts or overlays can be considered current. They should not be used for purposes of actual navigation!)
Page 1 of 3